Lisa Skinner has some tips to occupy, and maybe exhaust(!) your children in the Easter break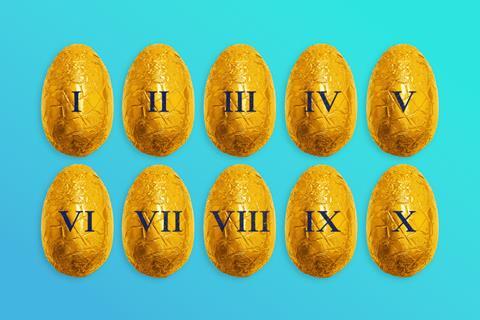 I bumped into a fellow parent this week and he was lamenting that the Easter holidays last for a whole two weeks – "How are we supposed to entertain them for two weeks?'' he asked me. I guess that is the reality of modern-day life, we no longer expect or maybe we don't trust our children to entertain themselves, so what are we supposed to do with them for two weeks? How do we not only survive but thrive over the Easter holidays together?
With four children of my own my strategy has always been to 'keep them busy', that way there is less chance of sibling fights occurring, more chance of a full night's sleep having exhausted their energy and the avoidance of the dreaded phrase "I'm bored." Every holiday time I come up with a plan of action and Easter is no different. Here are my top ten things to do to keep children (of around primary school age) amused this Easter break, while keeping a rein on your spending.
1. Plan an Easter Egg Hunt – why not create an egg hunt around your home or in your garden, leaving clues and Easter chocolate or sweets dotted around the place for your children to find. If you're lacking the time or the creativity to create your own you could head to your local IKEA store, where they are hosting free 'Eggstravaganza trails', you'll be given clues to find all seven hidden Easter eggs. Once all the eggs are found the children will be able to crack a code and win a prize. To check what's happening at your local store go to https://www.ikea.com/gb/en/stores/events/ikea-belfast/
2. Make some Easter fudge – I'm a big fan of @boredoflunch online, after all who isn't using a slow cooker these days to cut costs? Nathan recently posted a very simple slow cooker mini egg fudge recipe, consisting of milk chocolate, condensed milk and mini eggs. It's worth trying, I don't even think I could get this one wrong. Go check out recent posts on the Bored of Lunch socials or google the recipe online for instructions.
3. Visit your local Library/Museum – take advantage of your local library where you can spend an afternoon reading with your children. Our library is running Easter Storytime and craft events for children of all ages, it's worth checking what activities may be happening in your own area.
A visit to a museum is also a great way to put in a morning or an afternoon. We have a variety to choose from - a museum of art, natural science and history, a war museum, and an aviation museum, all of which are free of charge.
4. Prepare hard boiled Eggs, decorate them with marker pens, find a hill and do some egg rolling. At the same time, you could use the opportunity to share how the rolling of the eggs down the hill symbolises the rolling away of the stone on Christ's tomb following his resurrection.
5. Have a meal out, you will all benefit from this one!
Yo! - from 3rd April, kids eat free all day in Yo! Sushi restaurants when dining with a full-paying adult (minimum £10 spend). You can enjoy your sushi and Japanese hot favourites, while your little one tucks into a kiddo bento box for free.
Dobbie's Garden Centre - kids can enjoy a free meal in the café, with each adult main meal purchased. The offer runs daily from 12 noon and includes the kids' lunch menu or a pick 'n' mix meal, plus a drink.
Bella Italia - kids can eat for £1 with every adult main between 4pm and 6pm, Mondays to Thursdays at Bella Italia. They can enjoy three delicious courses and a Cawston Pressed Fruit Water for just £1. (Suitable for 2-11 year olds).
Asda - until 16 Apr 2023, each child (up to age 16) is entitled to a meal when they spend £1. Maximum of one meal from the kids menu per child, per day.
IKEA – children can enjoy Kids Pasta with Tomato Sauce and a soft drink for 95p or any other Kids Meal for £1.50. (These offers are valid for IKEA Family members in participating stores).
Sainsbury's Café - Kids eat for £1 with the purchase of an adult hot main.
Marks & Spencer - Spend £5 or more in the M&S Café and get a free kids' meal deal, including a main, snack and drink.
6. Plan an arts and crafts afternoon. There is an abundance of online art tutorials available via YouTube or you could search for ideas on Pinterest. I found a great craft tutorial for children - creating the empty tomb and the three crosses using a selection of paper, a paper plate, some lollypop sticks and a paper fastener. I also found a stain glass mosaic cross craft and a beautiful acrylic painting tutorial of the three crosses on Calvary against a dusk sky. You may need to buy materials beforehand, but you can usually source cheap art resources at the likes of Tesco, Poundland, The Works, The Range or B&M Bargains.
7. Book a workshop for your children, there are so many on offer:
Apple run free Art Labs for kids, one of which allows them to learn fun ways to create their own emoji. They'll be shown how to draw colourful faces and objects. They also get hands-on experience of using the Procreate app on iPad with an Apple Pencil to draw an emoji to take home. Devices are provided for all participants.
Alternatively, they also run free Music Labs for kids enabling them to make their own theme song for their favourite TV programme, book or game using GarageBand on iPad. They cover rhythm basics, and kids get hands-on with experimenting with Smart Drums, adding pre-recorded loops and remixing their theme song. Children can bring their own iPad, or the store can provide one. These workshops are recommended for kids aged 8–12. For more details go to https://www.apple.com/today/
Pets at Home run Pet Pals workshops in their stores nationwide. This activity is perfect for pet lovers, your children can learn to make their very own foraging box which is perfect for small animals such has hamsters and guinea pigs. Kids will receive an activity sheet and a certificate as well as meeting some amazing animals. These workshops are running from 1st-16th April. For more details go to https://community.petsathome.com/events/child-workshop/my-pet-pals-easter/
Dobbie's run a free gardening workshop (for children aged 4-10) every first Sunday of the month (and special school holiday clubs). In April the Little Seedlings workshop will focus on buzzing bees and how to create a bee-friendly garden. At the Little Seedlings holiday club children will learn all about egg-cellent Easter traditions. For more information go to https://events.dobbies.com
Hobbycraft also run workshops in their stores, you have to be pay for these but there are a number of Easter themed workshops for kids between £5 and £8. Check them out at - https://classbento.co.uk/hobbycraft/home?gclid=Cj0KCQjw2v-gBhC1ARIsAOQdKY3t0hZa85W8opTDfZIXbId8ri8B3Uz2B7ae2aTD4ubL_vYxnToIWLUaAv58EALw_wcB&gclsrc=aw.ds
8. Get outdoors – find a local forest park, coastal path or mountain range, go walking and enjoy the great outdoors with your family.
You could visit a local park/landmark, Botanic Gardens or a National Trust property - many of which will have Easter trails and crafts available. There are over 190 easter trails to choose from across England, Wales and Northern Ireland, all of which help children celebrate nature, history and beauty. NT trails cost £3 per trail (plus admission fee or free to NT members).
9. Plan a movie afternoon/night – draw the curtains and have the popcorn and drinks at the ready. You can catch some great movies on free-to-air TV this Easter including Hop; Back to the Future; Sonic the Hedgehog; Beauty and the Beast; School of Rock; Dora and the Lost City of Gold; The Emoji Movie; Despicable Me; Harry Potter movies; Matilda and many more. For full TV listings go to https://www.freeview.co.uk/tv-guide?userNid=64257
Alternatively, you could try to get a hold of the Veggie Tails DVD 'An Easter Carol' or 'The Story of Jesus for Children', told from a child's point of view, this film provides an overview of Christ's life and ministry.
If you would prefer to get out of the house you could opt for an Odeon Kids screening, these are scheduled every day during the school holidays and the grown-ups pay kids' ticket prices. Alternatively, O2, Three Mobile and Vodafone customers should keep an eye open for cinema ticket offers via their loyalty schemes/apps.
10. Share with your child/children about Christ's death on the cross and celebrate his resurrection with them. You could do this by reading through the passion narrative and resurrection with them over the course of the holidays, using age-appropriate resources. You may want to host a communion meal or even take them to a dawn service or another child friendly Easter service. Check what churches in your area are doing over the next few weeks.
As with Christmas, and indeed all of life, try to keep Jesus at the centre of what you do with your family this Easter time.
Hopefully some of this information will be helpful but if you're still at a loss as to what to do this Easter consult your local city council, local churches or parenting groups for advice on what's happening in your area. Just think, once Easter is over, we'll have the summer holidays to look forward to, a whole six weeks!

Lisa Skinner is co-owner of Order in the House - a Decluttering and Professional Organising company in Northern Ireland – find out more at www.orderinthehouseni.com
View full Profile