Becky May celebrates the recognition of autism in a popular children's TV series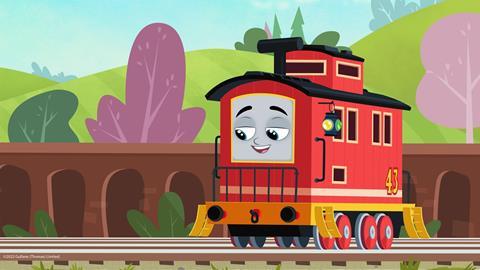 It may seem a cliché, to write an article about Thomas the Tank Engine and autism. We may all have heard of autistic children whose special interest is Thomas & friends, children and adults who happily spend hours at train stations studying the schedules, and parents who have successfully campaigned to have Thomas-themed sensory clothing created for their children. The characters and stories originally created by Rev W Audrey for his own children, first published in 1946 have been much loved by many in the autistic community, and now, Mattel, who create the TV series and various spin-offs including youtube content, films and merchandise, have announced the creation of their first autistic character and, rather than being a cliché, this is a special relationship, as acknowledged by Tom Purser, of The National Autistic Society,
"This is a real moment for autism because the history of autistic children and their relationship with the Thomas & Friends brand has been massive and I think to really recognise the importance of reflecting neurodiversity and autism in Thomas & Friends series is an amazing moment for Mattel, for the Thomas & Friends brand, and for autistic people."
Bruno, the Brake Car, will make his debut appearance on Channel 5's Milkshake on Wednesday 21st September at 7am. He is described as having a 'unique perspective on the world,' travelling along the tracks in reverse. He is voiced by Elliott Garcia, a nine-year-old autistic boy from Reading, Berkshire who has been speaking to the media about his first acting role. Bruno has other visible signs that he is autistic. He is described as being 'detail-orientated,' enjoying schedules and knowing the timetables and routes. He has a lantern whose colour changes, depending upon how he is feeling, he can flap his ladders to reveal when he is excited or anxious and can blow smoke ear-defenders to block out unwanted noise. He is funny, and hardworking and enjoys his friendships with the other trains.
Full disclosure, because it is important to acknowledge our own perspectives when speaking about autism, or for those who are autistic. I am not autistic. I am the parent of an autistic child. Within our extended family and close friendship groups we have a number of neurodiverse individuals whose characters are diverse, and remind us that when we speak about autism, we speak about a spectrum. As one wise person once said, "If you've met one autistic person, you've met one autistic person." Likewise, Bruno the train is not like every autistic child. He has clear autistic traits which will be like those some have, and unlike others. It is not possible to fully present 'autism in one character.
For us as Christians, who understand that each and every human being is a unique creation, revealing something of the character of God, that diversity is something we should be quite comfortable not only accepting, but celebrating. Cultural forces often push all of us to seek to fit in, to be 'normal' and for children and young people in the years when their character and personality is most formed, that pressure to conform can often be overwhelming. For autistic children, and particularly autistic girls, there can be significant pressure to mask those unique qualities or traits which should be welcomed and celebrated, identified as God-given and adding more to our world by their very existence.
This is why it is so important that this character has been created. Representation matters. Seeing something of ourselves, something we can relate to in the public eye, acknowledges our place too. We have experienced this with our own children; seeing the Cheeky Panda walk on the stage at Spring Harvest this year, wearing ear defenders helped my daughter to feel ok about wearing her own. But it is more than just seeing yourself. As Tom Purser says,
"It is important that everyone sees autistic characters on our screens because there are 160,000 school-age autistic children in the UK and they want to see their stories told, but it is also important that non-autistic children get insight and understanding into what it can be like to be autistic."
Over the last few years, understanding about autism has advanced considerably. For those who do not have autistic family members or friends, this new character may also be a way in to discovering more about this different way of seeing and experiencing the world. The National Autistic Society https://www.autism.org.uk/ is a great starting point, as is Mark Arnold's blog https://theadditionalneedsblogfather.com/ who writes from the perspective of a Christian father of a child with additional needs.
Quote source: https://www.autism.org.uk/what-we-do/news/mattel-introduces-first-autistic-character-in-thom

Becky May is a former Primary School teacher, founder of The Resources Cupboard, Mum to two no-longer preschoolers, who now has the Sophia the First theme playing on repeat inside her mind!
View full Profile