"This could be game-changing for youth ministry!" – new research about young people sharing faith offers invaluable insights for the future of church youth work. Dan Randall, youth director at Hope Together takes us through the stats.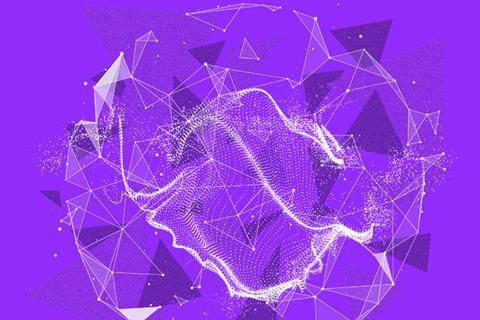 We've known for a long time that young people's behaviour and attitudes are particularly influenced by their peers during adolescence. But when the existing structures of church life were shaken by COVID-19, we were reminded of just how important these relationships are.
Youth leaders across the country were left with questions about how we can better understand the significance of peer connections when it comes to faith sharing – and about how young people can best be supported.
New research – a clearer understanding
On Wednesday 8th June 2022, a partnership of friends launched 'Influencers: Peer evangelism amongst young people in the UK'. This research aimed to understand how young people (aged 13 to 18) have been influenced by peers in their journey towards becoming a Christian and to understand how they influenced peers themselves.
At the launch, someone commented: "This could be game-changing for youth ministry!" It does seem like God is doing a new thing in this generation. At the same time, there are key challenges we should pay attention to.
A stand-out encouragement is that "65 percent of young Christians surveyed agreed or agreed strongly that they had the confidence to share their faith with others". Young people are up for sharing the truth of Jesus in their generation – and "a third (34 percent) of young Christians told us they share their faith regularly".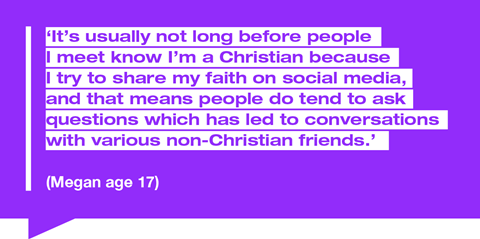 However, there were also some striking differences between the perceptions of young people and their youth workers.
HOPE Together, Alpha, Church Army, Church of England, Scripture Union, Youth for Christ and Youthscape jointly commissioned 9 Dot Research to lead this piece of work, which had three elements:
A seven-day online learning community with 16 young people aged 14 to 18
An online survey with 480 young people aged 13 to 18
An online survey with 255 youth leaders
You can watch the launch back on the HOPE website, but here are some of the key findings, as well as some questions for reflection on future practice…
What did this research tell us?
The role peers play in young people becoming Christians
The survey showed that 38 percent of Christian young people said that other Christians around their own age had "a big influence" on them becoming a Christian, while 39 percent said they had "a little influence".
Those from unchurched backgrounds were slightly more likely to say that Christians their own age had either "big" or "little" influence on them becoming a Christian (85 percent), compared with those from churched backgrounds (76 percent).
The top ways young people reported being influenced themselves were through peers helping them develop their own faith (56 percent), friends telling them about their faith and being invited to something (51 percent).
What we know about young Christians sharing their faith with peers
A third (34 percent) of young Christians told us they share their faith regularly. Most young people reported influencing their non-Christian peers to explore Christianity either "a little" (49 percent) or "not much" (30 percent).
Of the young people who felt they had influenced their peers to explore faith: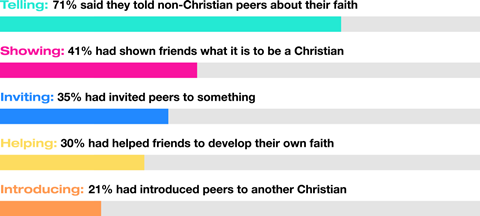 In contrast, youth leaders place more emphasis on 'inviting', with 81 percent of youth leaders saying their church encouraged young people to invite their friends to something, followed by encouraging young people to show peers what it means to be a Christian (58 percent) and then encouraging them to talk to peers about faith (49 percent).
Just under a third of young people surveyed (31 percent) said they share their faith on social media.
The barriers to young people sharing their faith, and how we can support them
70 percent of young people agreed or agreed strongly that they should try to encourage others to become Christians and just over half (51 percent) agreed that sharing their faith "helps me remember why I am a Christian".
The top barriers to faith, as perceived by young people, were not knowing answers to difficult questions (38 percent) and their peers not being interested (36 percent).
Interestingly, 77 percent of youth leaders saw a lack of confidence amongst young people as a barrier to faith-sharing, but only 31 percent of young people identified this as a challenge.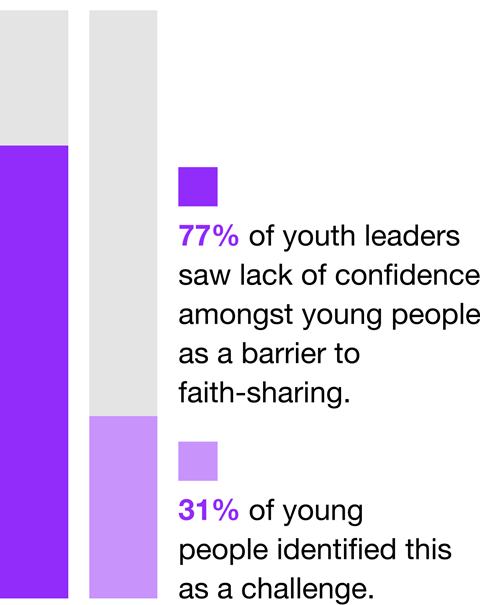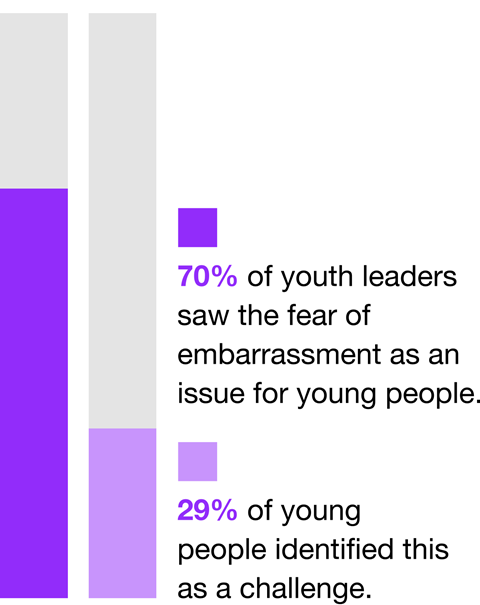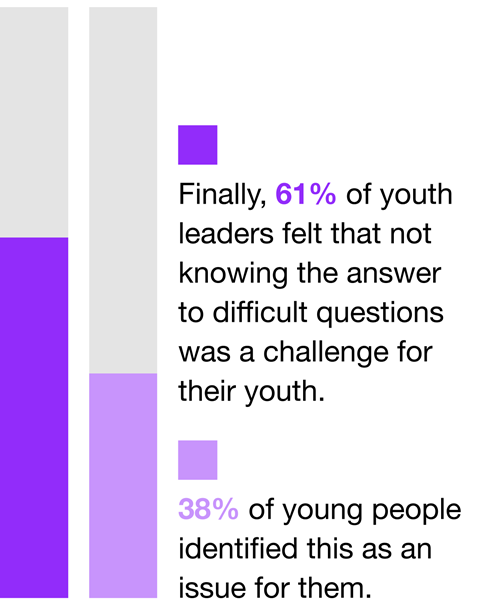 The research showed that 65 percent of young Christians surveyed agreed or agreed strongly that they had the confidence to share their faith with others. Meanwhile, 80 percent either agreed or agreed strongly that they would like to have more confidence to share faith with others.
The top ways young people wanted support were to talk to others about sharing faith (40 percent) and to hear about other people's experiences of doing so (39 percent).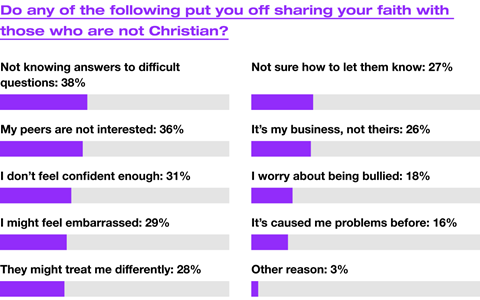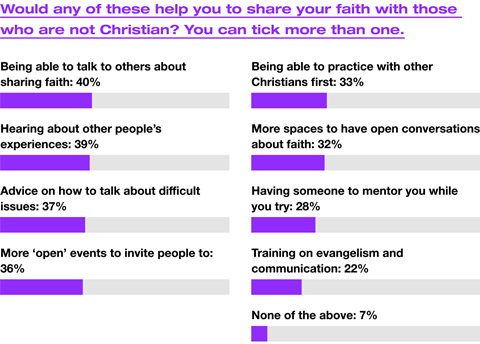 The role of the church
While young Christians are fairly positive about sharing their faith, the data suggests that churches are more focused on retaining churched young people than reaching out to unchurched young people.
Half (49 percent) of the youth workers we surveyed told us their churches had no "active disciples" from a non-Christian home, and a quarter said their churches had no contact with any young people from a non-Christian background, regardless of their level of engagement.
Youth workers told us that 39 percent of their church youth ministry was focused "solely" or "mainly" on retention (helping disciple young people primarily from the church community), compared with eight percent whose sole or main focus was on outreach.
Of the young people taking part in the research, 87 percent were from a churched background, where they and / or members of their family attended church services regularly.
So what?
The report highlights a range of implications this research may have for youth ministry in the UK moving forwards. Here are just a few:
The research invites us to take an honest look at our youth ministry, and whether we are reaching out to those beyond the Church
Having Christian friends is clearly important for young people's faith, so peer support for those growing up in church is vital.
But our faith is also there to be shared. It's interesting to note that amongst unchurched young people, peer influences were seen as being slightly more significant in faith development than among churched young people.
How might this shape the outreach of churches, especially when half of the churches report having no active disciples from a non-Christian home?
This may be a moment to pause and reflect on what it is, within ourselves and our organisations, that feels like a barrier to being more outward focused. What are our own experiences and beliefs about peer evangelism? And how are these shaping the young people we support?
Make time to talk and listen to young people about sharing faith
The research suggests that many young Christians are open to sharing their faith and want to talk about it. How can we create contexts where young people can hear and tell stories of faith-sharing?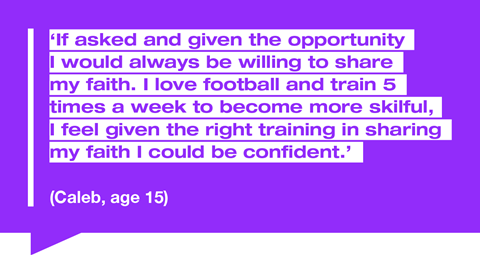 The research also challenges us to examine the gaps between the perceptions of young people and youth workers. There is always space to allow our youth work to be shaped more heavily by the voices and experiences of young people.
Sharing the research directly with young people could provide an opportunity to affirm and encourage the various ways it's possible to share faith with friends – disrupting the idea that there is one set way to influence others.
Encourage young people that they are, and can be, influencers
Young people aren't sure they have much of an influence on their peers, and it is often hard to know exactly what difference we do make. But one important thing we can do is help young people understand that the way we speak, act and treat people is noticed and does matter.
Young people don't need to know all the answers, have unwavering faith or be perfect to tell their friends there is something good about Christianity.
How else can we support young people on their journey of sharing faith? The conversation continues! To download the full report for free please visit our website.