Autumn is sweeping around again, with the new school year and the leaves turning gold. I wonder if you have ever thought, 'Maybe I should plan Advent early this year?'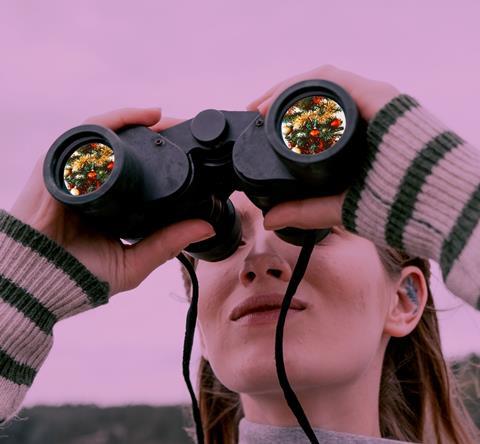 For the last couple of years, I've softly followed Gemma – you might know her as The Organised Mum. She has a twelve-week Christmas preparation plan. It's a genius idea: do the work ahead of time so that you're all sorted by 1st December and can actually enjoy it!
Well, I wouldn't say I've got there yet, but I definitely enjoyed the last two Christmases more because of having done more in advance.
Here's my version to help you plan an Advent which celebrates Jesus without having to do lots of stuff at the last minute.
September
Week 1 – Dreams
Think about what a 'Celebrating Jesus Christmas' might look like for you. What events or activities might it include? How could you nourish your spirits as well as your tummies? Who might you include?
How might this Christmas be an opportunity to grow in your faith? For example, if your children, like mine, are constantly asking and thinking about their presents, who not choose to do a thankful activity to balance that?
Write a list, then decide what your top three priorities are and plan to do those, leaving the others to happen if they happen or leave for another year.
Week 2 – Budget
Think about your financial and energy budgets. Do you work weekends? Do you work at Christmas? Work out how much money and energy you have to 'spend' on Christmas and note it down. You can refer to this when making plans to help you make them realistic.
Week 3 – Events
Check last year's calendar (if you have it) and contact church, school and others to see what thing they have planned. Decide which of these are a priority for your family, remembering that just because something's happening doesn't mean you have to go (unless you're running it of course!). Put these events into your calendar in pencil and see how the month looks. Edit if need be.
Week 4 – Sort out
Instead of waiting until November or December, get out all your Christmas 'stuff' now: decorations, toys, calendars etc. I have a whole load of Christmas toys and nativity sets. Mend or get rid of broken things.
Pass on things which are too young for your family now, and make a list of things you might want to get. Maybe a new Christmas book or two, or a set of Advent Calendar Pockets.
This is a good time to look for second hand Christmas books in charity shops. Also, chat with other families – those with children older than yours may appreciate somewhere to pass down their Christmas things to.
October
Week 5 – Plan a party
Plan an Advent party to get ready for Advent. This can be as simple as getting together as a family for an hour one weekend, inviting some friends over to do it with you or you could throw an event at church for families to come to. The idea is to have fun while getting three things ready to use during Advent to celebrate Jesus this Christmas. The three things should help you:
Pause, slow down, reflect and pray
Explore the Christmas story from the Bible (again)
Bless someone else
There are loads of ideas for activities in the GodVenture Advent Party Pack, but you can create your own too. Just remember to have fun and to leave equipped for Advent. Oh, and make sure you have the party in November so as to be ready for 1st December!
Week 6 – Make gifts
If you like to bless people with simple homemade gifts, this is a good time to make them. Here are some ideas:
One hour crochet slipper socks like these.
If you've got a garden veg glut, you could make some chutney.
Make a bespoke set of wooden peg dolls.
Also, spend a few minutes working out a good way for your family to pause each day during Advent. I find this works well with a candle – everyone loves lighting it, and we either time how long it's lit or have one with numbers to burn down.
Once it's lit, having a simple ritual to do each day, such as each thinking of three things we're grateful for, is a good way to move our focus onto God's goodness. What might work for your family?
Week 7 – Story plan
It's great to find a way to explore the Christmas story together. How you do this will depend on the ages of your children and what you've done before. Here are some ideas:
Use a nativity set or toys such as Duplo, Lego or Playmobil to tell the story. Make a place where that set can be out and played with on and off during Advent.
The GodVenture Sticker Advent Calendar has a sticker a day and a section of the story to read – a simple way to engage children age three to ten.
Listen to the story on an audio Bible. I love YouVersion's NIV UK, which is read by David Suchet.
Week 8 – Plan to bless others
You may have already started making gifts, but how else could you bless people during Advent? Each year we make a set of clay ornaments and give them to delivery people through the month – they get to choose which one they want, and we bless them verbally as they take it. You can see more here.
You might also like to:
Collect items for a food bank.
Work out how you can help out with a charity project.
Offer to look after someone's children so they can shop alone.
November
Week 9 – Games
Think about what your children play and see if you can find ways to 'Christmas' it. My daughters love to dress up, so over the years I've made or bought simple nativity costumes which get a lot more use than Christmas jumpers!
Week 10 – Resources
Work out what you need to enable you to do the top three priorities on your list, plus a few extras to give you fun activities to enjoy over the month. I love getting a large colour in construction toy from Aldi – it takes ages to do and you have something to play with at the end!
Week 11 – Last-minute bits
Check you have any tea lights or batteries you need for your Christmas decorations and toys.
Look back on the last ten weeks – have you missed anything?
Week 12 – Set up
Get out all your Christmas stuff – put Christmas books in a basket (or wrap them all in paper!), set up the nativity set(s), get out the Advent Calendar(s) and toys.
December
Now you're ready to enjoy and celebrate Jesus this Christmas!

Victoria Beech runs GodVenture to help families do faith at home together. She has a series of sticker activity books and other fun resources including Bible GodVen­ture52, a pack of cards with 52 ideas on exploring the Bible together at home. Get two packs for £10 using the code 'YCW' at GodVenture.co.uk