Becky May takes a look at worship songs for children and comes up with her best five.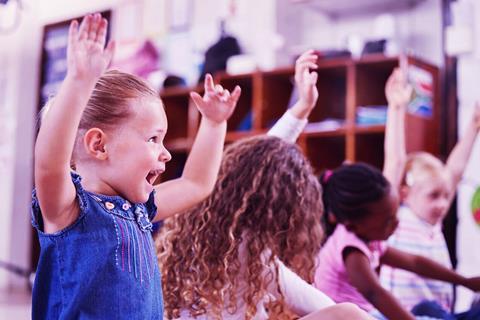 When comedian, Jason Manford, recently released his album 'Assembly Bangers,' vast numbers of adults were immediately taken back to the days of sitting cross-legged on a heavily polished floor in school assembly halls across the land, singing the songs of their childhood; songs which contain Biblical truths. There is power in song, power to remember. There is a different power in worship, and when we choose songs for our children to use in worship today, we need to believe that they stand equally with us in worship. So here are five must-know children's worship songs which build up our children's faith and understanding, and declare who God is in their lives. (You can see a previous top five from some years ago here )
1) Our God is a Great Big God.
This one has become a bit of a modern classic, and whilst you may wish to widen your repertoire, so that you are not only singing this one every week, this very simple song contains a very big message; our almighty God, creator of heaven and earth holds me in his very hands. This is a song, and a message, we want children to remember for the whole of their lives.
In a world where our children often hear that they need to conform in order to belong; act a certain way, like certain things, behave as we expect, look the way we want you to look, this song celebrates the rich diversity that exists within the family of God and reminds children that God loves each and every one of us, unique and different as we are.
There is a significant step that our children need to make in their discipleship journey when they move from understanding Jesus as our friend, to also understanding that God as king. This song celebrates this, as well as what our king has done for us. The chorus also makes the important shift from singing about God to singing to God, in worship.
4) God Suit
When I was aged eight, I learnt a song which spoke about living out our faith on the frontline. The wisdom of this simple song has remained with me to this day and sustained me through many tricky situations. This reminds us to where our armour of God, fronts up to the reality of the spiritual battle we all live through, children included, and worships God for the battle he has already won for us.
Ok, this one's a bold choice, it's brand new and won't be known by many children at all, there are no fancy actions or big dance moves, it is a simple, straightforward worship song, and a very helpful reminder that sometimes we don't need big and bold, and we don't need songs that only speak about God, we need to give children the opportunity to worship for themselves.

Becky May is a former Primary School teacher, founder of The Resources Cupboard, Mum to two no-longer preschoolers, who now has the Sophia the First theme playing on repeat inside her mind!
View full Profile