Ali Campbell is broadly excited by the new series, but has a few cautionary comments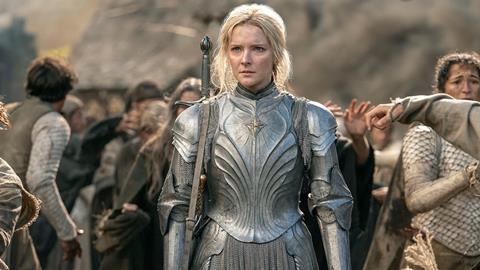 Amazon Prime Series: The Rings of Power
Rating: 13+ (Episode 3 is rated 15)
Other connected films/TV series This brand new series takes place thousands of years before the events of Peter Jackson's film trilogy The Fellowship of the Ring (2001), The Two Towers (2002), and The Return of the King (2003)
Each episode length 66-70 mins
Genre Fantasy adventure
Overview
An epic drama set thousands of years before the events of J.R.R. Tolkien's 'The Hobbit' and 'The Lord of the Rings' . It follows an cast of characters, known and unknown, as they confront the long-feared re-emergence of evil to Middle-earth.
We are three episodes in at the time of writing, and the plan is for five series (so, if it goes well, it is going to run for a while) coming in at an estimated £860million pounds. There has perhaps been nothing quite like this - the sheer scale, the investment in world building are on another level. If you remember the Lord of the Rings films directed by Peter Jackson, well it is visually as gorgeous.
What you liked
If you were expecting some familiar characters from either the Hobbit or Lord of the Rings, the only one you are likely to notice is Sauron who represents all that is darkness and evil - unless you are a mega Tolkien fan and have read The Silmarillion in which case, you will notice some familiar places - Numenor in particular. The series is set thousands of years before Bilbo's journey, so much so that Hobbits aren't Hobbits yet (gasp), they are Harfoots - a nomadic group of small people who have yet to find the Shire.
You will meet elves, dwarves, orcs and humans and - certainly in the first two episodes, have to cope with a certain amount of setting the scene. It is a small price to pay for something so beautifully realised. There are jaw dropping scenes (It needs a big screen really, it is that epic in scale), there are battles and alliances and - apart from needing to learn the names - it feels like we are on familiar territory.
I've loved it so far, I'm intrigued to see how much The Rings of Power draw on the myths and stories articulated in The Silmarillion, and with a whopping five series to look forward to it is going to be fascinating to watch and see if Tolkien fans consider this to be "canon" or profiteering off Tolkien's legacy.
What you didn't like
After the first two episodes I would have said anyone who has been comfortable with the Marvel Cinematic Franchise will cope with the fantasy violence and, thus far, no language worth mentioning - however, episode three had a 15 rating from Prime and I was surprised at the upturn in violence - it was certainly more graphic than the first two episodes.
Thoughts for parents:
From the off we have "darkness and light" as a motif. Head towards the light being a refrain throughout as the lead Elf seeks revenge for her brothers death (I'm not giving anything away by saying that!). There is also this idea that evil is long past, we don't need to worry about it anymore - we are at peace. The evil enemy is dead. There is a sense in which Elves, dwarfs, harfoots and humans need to wake up before it is too late! So plenty of themes to explore with your children.


Ali Campbell is a youth and children's ministry consultant.