Andy Peck finds no shortage of material to delight and alarm the christian parent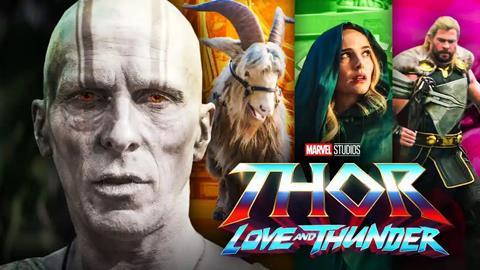 Review Thor: Love and Thunder
Rating: 12A
Other connected films Thor (2011), Thor Dark World (2013), Thor Ragnarock, (2017) Avengers: End Game (2018); Avengers: Infinity War (2019)
Running time 1hour 59mins
Genre (Marvel Superhero )
Overview. Thor (Chris Emsworth), is in self-imposed exile after Avengers' Infinity War left him emotionally distraught and out of shape. He is galvanised into action to help rescue the children of New Asgaard, who have been captured by Gorr (Christian Bale), a grieving father who wants to retaliate against 'the gods' who have treated him so poorly. Thor is accompanied by his ex-girlfriend Jane Foster (Natalie Portman) now 'Mighty Thor' using Thor's hammer, and King Valkyrie (Tessa Thompson).
What I liked
The performances of the main characters are first class. The film doesn't take itself too seriously (jokes, humorous conversation and two large goats from norse mythology). It had the kind of fight scenes, dramatic imagery and twists and turns you would expect from this franchise.
What I didn't like: There are many weighty personal themes. These include Jane Foster with stage four cancer who is seen receiving chemotherapy; Thor's mental health crisis and the bereavement that drives Corr. They weren't given sufficient exploration or conclusion. At just under two hours this is the shortest Marvel film since 2018.
Thoughts for parents
There are plenty of 'spiritual themes' and though your kids won't thank you for making their film watching into a Bible study, there are oodles of conversation points.
1. The gods From the very start, we have Corr railing against the gods 'who will use you but not help you', as his daughter dies, and the powerful but irrational gods are a constant theme. There is no detail about these 'gods', even when Thor, Jane Foster and Valkyrie visit 'Omnipotent City' and the 'council of gods' headed by Zeus, to seek the assistance of gods in their quest to stop 'The God Butcher' Gorr in his attempts to reach the spirit of 'eternity' where he can make a cosmic wish to 'destroy all gods'. At this meeting Zeus threatens Thor with 'not being allowed to attend the 'orgy' - an unnecessary 'joke' for a 12A.
2. Eternity. This may well be an expanded theme in future films, but briefly touched on here as we learn that 'eternal bliss' is given to warriors who die in battle described as 'Valhalla' (from norse mythology), and Corr is able to make his wish and there is a 'heaven like' happy ending for some.
3. Power. The superhero stuff is on display of course and when the children are being rescued, Thor pronounces that his powers should be given to the children that they may fight with supernatural strength - a Pentecost moment marvel style!
4. Director Taika Waititi, is known for seeking to support (so called) LGBT issues and so we have a rock monster speaking of a gay relationship with another rock monster producing offspring and there's a brief mention of Valkyrie's former female lover.
5. A co-star having stage 4 cancer was unexpected. Reviewers have suggested this may be an unexpected trigger if cancer is something families are facing. A few 'horror' scenes with the captured children would alarm younger viewers.
So the film recommended but with reservations!