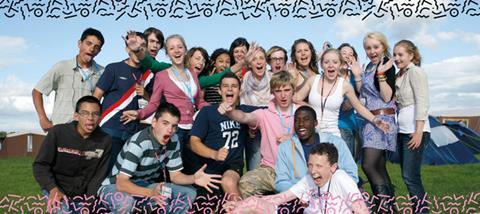 As always, Mike Pilavachi saved the day. Soul Survivor's fearless leader calmly explained exactly what was happening inside that big top. Because Mike was so unfazed by the weirdness, I started to relax. I later discovered he had made an amusing deal with the Almighty: God would look after the front (those who had responded during the ministry time), while his job was to pastor the back (the confused, terrified and somewhat intrigued teenagers like me).
After that first year I never looked back. Soul Survivor became an annual place of significant encounter, calling and discipleship, both for myself and subsequently for my own youth groups. It was also where I first experienced a mosh pit, broke a teenage crush's heart and went five days without taking a shower!
The news that, after 26 years, this month's Soul Survivor festivals will be their last rocked the youth work world. But respect for the team's decision was unanimous. Mike was clear that obedience to God was the overarching motive. He said: "We believe that God has spoken and that this is the right time for us to step aside and make space for others to rise up."
Soul beginnings
Mike Pilavachi was a 30-something youth worker at St Andrew's, Chorleywood and ran the youth work at New Wine, a conference that had grown out of the church. Mike was keen to develop an event that was specifically for teenagers, and in the summer of 1993 the first ever Soul Survivor conference hosted 1,896 young people at Shepton Mallet's showground (Mike counted them all in that first year!).
When deciding on a name, one friend suggested 'Soul Survivor' but it was initially dismissed for sounding too negative. The following Sunday a throwaway comment was made by the speaker at the front of church: "For many young people today, to live in victory is simply to survive." This line resonated with Mike and the name stuck.
Barry and Mary Kissell, who were on staff at St Andrew's, told me that Soul Survivor was very clearly "born out of the Spirit". Mike had been attending the church's daily 7am prayer meetings and Mary notes that there was "something about him". "We felt he was called for a purpose. He was very charismatic, but it was almost like there was a destiny set for him."
Not long after the festival began, Mike and his team planted a new church called Soul Survivor Watford. Worship leader Matt Redman was involved in the plant and has fond memories of the early days: "There were people who had nothing to do with church, and suddenly Jesus was on their radar for the first time. Some of these kids came from really broken backgrounds, and they were nurtured, cared for, input into. It felt like such an adventure; it was all hands on deck. I look back and think: 'That was so brilliant.' There's something about becoming a Christian and being able to put your hand to work straight away. You get trusted to run with things in the kingdom; you get to lead this or that thing. I think that's a brilliant way of discipling young people."
Soul growth
As Soul Survivor became more popular, two summer conferences ran back to back (from 1997), followed by three conferences (from 1999). From 2005, those in their late teens and 20s had the option to attend Momentum, which unpacked topics such as work, money and marriage. Further festivals launched in Staffordshire (2007) and Scotland (2014), and 2017 saw a move from Shepton Mallet to Peterborough. The driving vision behind launching new events was always to reach more young people and introduce them to Jesus.
A few years into the festival Soul Sista – an opportunity for girls to gather together – launched at the event. Dawn Reynolds and Beth Redman excitedly hosted the first seminar, and almost every girl on campsite (and some boys in disguise) attended. The team has since met many female leaders who became Christians or had a significant encounter with God at a Soul Sista event. I certainly wouldn't be doing what I'm doing now if those fearless Soul Sistas hadn't paved the way for my own journey. As Rachel Hughes told me: "There was something about women gathering and contending for one another, praying for one another and spurring each other on that was just uniquely special, precious and empowering."
SoulNet was later created as a place of encouragement and retreat for that "beaten-up bunch", also known as youth workers! And Soul 61 launched as a gap-year leadership programme (which grew out of the Body Builders training course). Mike has always been passionate about raising up young leaders. When he decided to get rid of the ministry team at the festivals (there is still an enabling team), some team members were unsure. But Mike's response was: "We cannot tell young people they can go home and change the world if when they're at our festivals we don't even trust them to pray for each other."
Soul Survivor soon spread beyond the UK. Barry Kissell vividly remembers a vision he had early on at New Wine of hundreds of young people "coming from every country you can imagine". "Suddenly I began to cry and saw this was going to be international," he said. "It would touch all the nations of the world." And that is exactly what happened. Youth leaders from other countries visited the UK Soul Survivor festivals, and Mike or other members of the team would often help to facilitate these festivals abroad.
Soul encounter
A youth worker recently reflected: "Normally in the youth conferences I go to there are these visuals at the start. There's noise and everything hypes up. At Soul Survivor this big bloke comes on and then the worship starts and it's fine. The talks are all right. I was wondering why all these people come. And then they stand there and ask the Holy Spirit to come. No hype, they just wait. Then something happens. In that moment I realised why all these young people come."
There is no hype at Soul Survivor, and yet encounter with God is one of its defining features. Soul Survivor's Ali Martin said: "I think the thing with ministry, with making room for the Holy Spirit, is that you just have to be very intentional. It never happens by mistake." One of the great things about festivals is that there is often more space for God to move in the lives of young people. When Ali was a young person at Soul Survivor, she would buy a portion of chips at the end of the evening session, go back in and "stay until the last person had left, just enjoying the sense of the presence of God". She added: "We just wanted to be close to whatever God was doing."
Sung worship has always played an important role at Soul Survivor. Many worship leaders were given their first opportunities to lead there. Mary Kissell remembers back to when Matt Redman was a young person at St Andrew's, Chorleywood: "He was quite a poet and would often bring a poem. It was incredibly moving. He had such an anointed gift with words. He began in a very lowly way to lead worship occasionally, and he felt the Lord call him to write worship songs. Then he began to lead worship at New Wine and Soul Survivor, and his songs were very popular. The young people loved them."
Beth Croft describes worship as the "main event" at Soul Survivor: "The talks are incredible and we need that feeding of the word of God, but more than anything we want people to encounter the presence of God, and we see that primarily happening through worship. The Bible says, 'Where the Spirit of the Lord is, there is freedom', and there's something about worship that ushers in the presence of God. We see chains breaking off people who aren't even being prayed for."
This was my husband's story. Will loved church as a child, but at 10 he started smoking, fighting and disrupting the other kids. He was eventually kicked out of the church youth group but was invited to Soul Survivor as a teenager. He refused to go to any of the sessions and spent his time skating, smoking and chatting up girls. He missed curfew two nights in a row, returning to his tent with different girls. Will was on a final warning before his youth worker sent him home when he was pulled into the big top. He stood at the back completely disengaged while Tim Hughes led the worship, but within minutes he was overwhelmed by a sense of peace. He realised God loved him and wanted to be close to him again. In that moment, Will sensed God telling him to learn the guitar, so he bought himself a Soul Survivor songbook and taught himself to play with his dad's old guitar.
Years later, Will did an internship with Tim Hughes and is now working as a musician and worship leader. Tim said: "One of the beautiful things about Soul Survivor is that as Mike and the leaders created space for God, God did miraculous things. Will's story is one of them. It's possibly one of the most miraculous examples of opening someone's eyes to Jesus."
Soul outreach
When I interviewed pioneer of the Alpha Course, Nicky Gumbel, he spoke of Soul Survivor with great admiration, calling it "one of the most remarkable works of God that we've seen in our generation". He recounted the countless ordinands (trainee vicars) he has met who came to faith through the summer festivals and said: "I think no one has done a better job of reaching young people who aren't in church than Mike Pilavachi at Soul Survivor."
One of my favourite moments at the festivals came when the leaders provided opportunities for people to become Christians. The team estimates that around 1,500 people make a first-time commitment each year.
Soul Survivor has never considered encounter with God a selfish thing. There has always been a focus on equipping young people to share the gospel. In the year 2000, the organisers put their money where their mouths were as The Message 2000 saw 12,000 young people take to the streets of Manchester for two weeks of mission, during which young people like me were equipped to do evangelism. There was a big celebration at the end of each evening – with a gospel presentation and worship – which we could invite people to, but we were also called to bless and serve the community through around 400 different projects, such as cleaning up graffiti, painting houses and washing cars. It was about demonstrating the good news, not just talking about it. Andy Hawthorne, founder of The Message Trust, spoke of The Message 2000's impact: "Pouring out that love alongside preaching the gospel was transformational for the city of Manchester and The Message as a ministry."
Then in 2004, 20,000 young people descended on London for two weeks of mission with Soul in the City. Ali Martin said: "Seeing young people give up part of their summer holiday and choosing to serve people they'd never met was totally beautiful."
The following year, Soul Survivor joined forces with Tearfund to launch Soul Action, focusing on fighting poverty and injustice. In 2009, Soul Survivor took 350 young people to Durban, South Africa, to serve churches and projects working with the vulnerable and marginalised.
Soul long
Church pastor and Soul Survivor trustee Chris Lane sums up some of what makes Soul Survivor so great: "Mike's courage in not being worried about looking like a fool, but to just wait and see what God does in silence with 10,000 teenagers in a tent. His authenticity; not trying to be cool or relevant, but loving young people. The heart of it is just this pursuit of God and the experience of the Spirit that transforms people and sets them free."
When I asked Chris what his hopes for youth festivals were going forward, he told me about a large tree he had recently removed from his garden, which resulted in other plants blooming because they had space to flourish. He said: "I hope that as God brings Soul Survivor to an end it creates space for all these other things to flourish. My hope is that new songs are written and new leaders emerge; that there's space for stuff to blossom. The seeds Mike and the team have sown, you will see them flourish like never before."
The festivals will be closing after 27 summers, but Soul Survivor Watford will continue to reach the unchurched and disciple its own congregation. The team is praying for the movements that spring up next – that they would flourish and reach young people they could never have dreamed of reaching.
I'm not going to lie, I cried when I heard the news about Soul Survivor. Where else will my future kids get simultaneously freaked out, inspired, sunburnt, challenged and walloped by the Holy Spirit? But I trust that God is in charge. And while it's right that we celebrate the incredible legacy of Soul Survivor and honour those who have gone before us, we must also remember that this is not the end. As God clearly reminded the team at Soul Survivor, the young people are his, not ours.