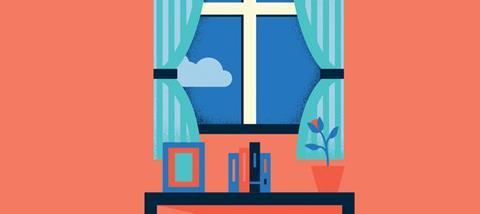 Tell the story, with everyone saying the words in italics. You might want to practise saying these beforehand; if you're telling the story in a children's group, you could write these words out on large pieces of paper or put them on a PowerPoint slide.
Jesus was dead. The Sabbath was over. The sun had just risen on the first day of the week. And three women, three of Jesus' friends, were walking to his tomb.
"Mary, Mary and Salome set off early from their home-y."
What were they up to? According to their burial custom, they were going to put spices on Jesus' body. But there was a problem. And they wondered out loud about how they were going to solve it.
"His tomb is covered, so they say: 'Who will roll the stone away?'"
It was a huge stone, as it happened. But when they arrived at the tomb, surprisingly, it had already been rolled away! So they crept inside the tomb to see what had happened.
"And what they saw gave them a fright. A young man sat there, dressed in white."
Jesus, however, was nowhere to be seen! So the person in white told them what had happened.
"Jesus who was crucified, he's not here. No, he's alive!"
"Look," the man went on. "See the place where his body used to lay."
And then he gave them a very important message to pass on to Peter and the other disciples.
"Go back home to Galilee and Jesus you will surely see!"
And so, amazed and astonished, the three women ran away from the tomb. But they were so frightened that they said nothing to anyone.
"And Mary, Mary and Salome went back, trembling, to their home-y."