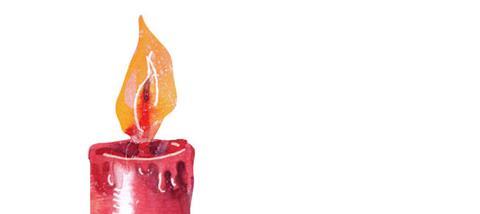 There are three things that I think are good to do in the run-up to Christmas: Explore the story. Pause, reflect and pray. Share something with others.
I love being creative, so for me there's a temptation to try and do all of the lovely Pinteresty Christmas things I've seen. But this year I'm aiming to choose wisely, to think about what my family likes to do together, to think about what our faith journey looks like at the moment, and choose a few activities to help us get closer to God in the run-up to Christmas.
Some families may find they have lots of traditions that really help them to explore the story, or maybe they have a daily 'pause and pray' moment already in place, or perhaps they're great at reaching out to others. I'm not suggesting starting from scratch, but instead looking for ways to enhance what already goes on, taking a good tradition to the next level or creating a simple way to do something you've not done much of before.
Explore the story
This is something that weirdly seems to get left out, even in Christian homes! Sometimes, we feel we know the story so well that we actually forget to read it from the Bible. And when we do, we find that lots of what we thought was there isn't. I love finding new ways to explore the Christmas story and allowing God to speak in a fresh way through it. Here are some ideas to sift through:
Read the whole story in one sitting, perhaps from a different Bible translation or using an audio version.
Buy or borrow 24 short books about Christmas, wrap them up and put a number on each. Open and read one each day. See if you can 'inherit' books from families with children older than yours.
Explore the cultural and geographical context of the story using non-fiction books such as the Biblelands eyewitness series or DK Bible atlas. I really enjoyed the nativity chapter in Jesus through Middle Eastern eyes by Kenneth E Bailey.
Find a good retelling of the story to read aloud together. My favourites for older children, teens and adults are Oriel's Diary: An archangel's account of the life of Jesus by Robert Harrison and The book of God: The Bible as a novel by Walter Wangerin. For children aged 5 and over, I'd recommend the 24-chaptered and very beautiful The Christmas Mystery by Jostein Gaarder.
Get hold of a nativity set you can play with. It's great to be able to move the pieces about and to involve them in the activities that take place in your house without worrying about them breaking. I'd recommend investing in a wooden one, but there are lots out there, including one from HappyLand.
Divide the Christmas story into 24 or 25 segments, stow them in Advent pocket bunting or similar and read one segment a day during Advent (you can download a free PDF of the story divided up like this at www.godventure.co.uk).
Do some Nativity baking or craft activities, and use the time while you're working, eating or playing together to chat about your favourite parts of the story, your questions or what jumped out in a fresh way. I love doing things with angel and star cutters. Cut out angel-shaped lids for jam tarts; use angel cookie cutters to print angel wrapping paper; use star cutters to make star peppermint creams. These things can also turn into ways to share the story and some happiness with others. You can access lots of suitable recipes with a quick internet search, or get hold of Bake through the Bible at Christmas by Susie Bentley-Taylor and Bekah Moore.
Make your own Nativity play, either by dressing up (pillow cases and tea towels galore!) or use toys such as PlayMobil. You could take photos of scenes and make your own photobook of the story or make a presentation for your family.
Pause, reflect and pray
This is something some families do really well, while for others it's not really part of their tradition. One way to introduce it is using candles. Everyone loves lighting candles. The flame somehow changes the atmosphere and gives a moment in which you can reflect together and pray. Advent is a great time to light a candle together each evening, as the evenings are dark. Here are some ideas for pausing, reflecting and praying:
Create an Advent wreath, with three purple candles, one pink and one white central one, surrounded by fir twigs and holly leaves. Put together readings and prayers for each week of Advent. There are plenty of examples online, so have a browse and find one that works for your family.
Use a simple candle, which you light for a few minutes each evening over your meal or another time together. Have one thing you reflect on. I've written a list of 25 ways to be thankful, saying things like: "I'm thankful for food to eat, especially…" The idea is to give everyone a chance to be thankful each day. Or you may prefer to say the same prayer each evening, such as: "Jesus, Light of the world, come and light our darkness."
Spend time reading some of the special Christmas readings and make some art in response. You could create simple patterns, pictures or words using masking tape on paper or canvas board. Then paint over them with bright paint (liquid watercolours work really well). Let these dry completely before carefully removing the tape to reveal your masterpiece.
Meditate on a particular part of the Christmas story. For example, you could chew over the words of the angels in each part of the story, wondering together what those words might have meant to the people they were spoken to, and what meaning they might have for you.
Share something with others
It's far too easy for Christmas to turn into a gift and food fest with little thought for others. However, most charities have worked this out, and there are plenty of opportunities to give to others (see 'Tidings of comfort and joy' on page 48). As well as giving to organisations working throughout the year, you could give your own gifts, both to people you know and those you don't. Here are a few ideas:
Make something yummy and invite your neighbours to come and eat it with you. This could be a set of angel jam tarts (use an angel cutter to add angel-shaped pastry on the top of your tarts) or a more elaborate party. Christmas is an easy excuse to make new friends!
Bless everyone who comes to your house during December with a little gift, a wrapped bar of chocolate or a jar of homemade jam. Delivery people are generally surprised and delighted to be blessed in this way. If they don't want to take something from you, insist that they eat a mince pie with you on the doorstep!
Create and hide 'Jesus Rocks'. Paint some small stones white, then draw on a simple baby Jesus, writing #JesusRocks on the back. Search for pictures online for more details.
Create ornaments with words on such as 'strength', 'hope', 'joy', 'peace', 'comfort', 'courage', 'healing' or 'love' and give them to people, praying that God gives them what they need this Christmas.