If the outcome of the inquest into the death of Molly Russell has reminded you to be more vigilant with your own childen's online habits, Emma Lawson of Thirtyone:eight gives you the lowdown on what to check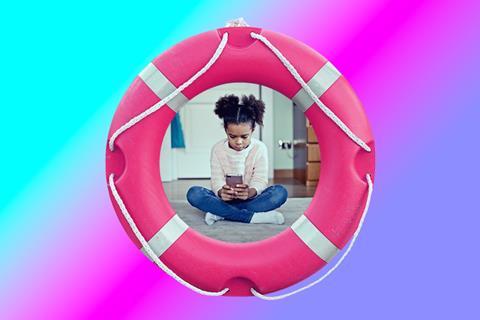 Digital safeguarding means taking active measures to prevent harm and abuse in the online space. The new Prime Minister Liz Truss has her work cut out with a mounting list of priorities, one of which is to ensure that the Online Safety Bill provides robust protection from online harm and abuse.
As part of this bill, tech firms are being called to step up and do more to safeguard vulnerable people online. What exactly that means and whether it will be good enough is a topic for another article. In the meantime, here's what you can do to help children and young people stay safe online.
Be 'Share Aware'. Remind the children and young people in your care that whatever they share online, usually stays online. Be aware of what you share, because you don't know on whose screen it may end up.
You might think it's unrealistic for children and young people to allow you to set up parental controls on the internet. What young person wants their screen time and online activity restricted? But you could try to help them understand the rationale behind the decision. Explain that you are trying to protect them from harmful online content and activity, and that it's better not to have seen something upsetting in the first place than to deal with the after-effects of something you can't 'unsee'. Explain that parental controls are put in place for their safety.
Underline the importance of keeping personal information – their home address, name, email addresses, telephone number, school name– private, and to never reveal this information to anyone they meet online. If someone they have only engaged with online asks to meet them in person, they need to report it.
Emphasise that their mobile devices, if they have them, are for their sole use, and not for anyone else to use unless they are a trusted person. Remind them to make sure they log out of all their social media accounts before they leave a public computer.
It can feel embarrassing to talk about with children and young people, but the sharing of personal and intimate photos needs to be addressed. In 2020, the Internet Watch Foundation (IWF) confirmed 68,000 cases of self-generated imagery, 'a rise of 77% on 2019, and self-generated imagery accounts for nearly half (44%) the imagery… In 80% of these cases, the victims were 11 to 13-year-old girls. Girls can find themselves getting requests for intimate images of themselves from strangers online or boys in their school. Encourage children and young people to report this, and not to feel shamed into doing anything that makes them feel uncomfortable.
Underscore the importance of using a different screen name in any chat forum or public space. Sexual offenders targeting children and young people will look for details like names and date of birth.
It's difficult to avoid inappropriate content on Instagram, Twitter, Facebook and YouTube entirely. Talk about social media settings and how they can be adjusted to help minimise this sort of content. This means doing your research, but don't be surprised if some of them already know what to do. Go through the sorts of platforms the children and young people in your care use and how you can change settings to public or private/follower mode.
Tools like SafeSearch on Google filter out explicit or unsuitable content. Talk about how to report or block inappropriate content using each platform or video's settings.
Ask your children to reflect on what sort of content makes them feel good, and what sort of content leaves them feeling anxious or depressed. Are the influencers they follow a good influence on them? Remind them that they can choose who they follow and what sort of content they consume.
Most importantly, build trust and approach the subject in a calm manner. Let children and young people know they're in a safe space to open up with you and allow them to ask and answer questions at their own pace. Start the conversation but make space to listen to any worries they might have.
Helpful resources/further information:
Digital Matters online learning platform - Internet Matters
Parents and Carers - UK Safer Internet Centre Child Exploitation and Online Protection Command (CEOP)