Suzanne Lees-Smith works out a way to talk about suffering with her children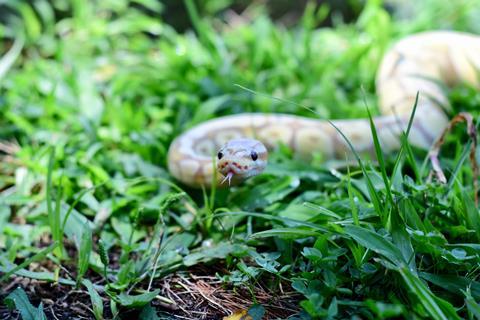 I have debated often with my eldest, now 19, if God is good and loving why would he let people be so awful to one another, why let them hurt and fight and destroy others? Why does he not heal his Dad of depression. He put it brilliantly as he said "why did God put the snake in the garden?" That made me laugh and I had to applaud. It's a massive topic really, why God allows certain atrocities and stops others. Personally, I tend to begin in response with, "I really can't pretend to understand and know exactly why, my brain is really nowhere near as big as God's and we are all limited in time and space to understand what on earth is going on."
However, we can talk about how if there was no snake and everything was perfect, we would be like robots, there would be no free will or choice to live life with God, in his ways. In that case is that really a loving existence? I also always point to the fact that heaven, life after this one, has got to be so utterly mind-blowingly awesome and indescribable, in a good way, that our sufferings here and now will just seem tiny.
It is good to be challenged also, if like me, we actually have rather a good deal in life most of the time, a home, food, water, jobs, holidays. In comfortable lives, we are so quick to be angry with God when something affects us, ironically it is often those who live in poverty who praise God in all and would not think of cutting him out in times of trouble.
My favourite verse to say often to both my boys is John 16:33 ""I have told you these things, so that in me you may have peace. In this world you will have trouble. But take heart! I have overcome the world."
Things do go wrong but it's not forever and Jesus promises to be with people in the trouble and help them overcome it!
The importance of heaven and the promise of Revelation is key in tackling this question of suffering. The presence of an eternal judgment and the cross where sin and suffering is dealt with so important to mention. Some people have only a few years on this earth as slaves or children on the street and if there is no life after death and no God who can judge all the evil in the world, where is there any meaning and hope for those lives?
1 Peter 1: 6 In all this you greatly rejoice, though now for a little while you may have had to suffer grief in all kinds of trials. 7 These have come so that the proven genuineness of your faith—of greater worth than gold, which perishes even though refined by fire—may result in praise, glory and honor when Jesus Christ is revealed.
Why did God put the snake in the garden? We can't understand in fullness, but God didn't just put a snake in the garden, he put US in the garden. He is a God who wants a relationship with us, one of love, walking with us in the cool of the day, calling us friends and giving us purpose. The garden to come is going to be even more spectacular and full of treasure which has been won? Made? Created in the difficulties of this life. Mmmmm not sure I managed to convince my son, but at least I gave him a few more questions to think about.
Suzanne Lees-Smith is Children and Families Minister, Church of the Good Shepherd, Pyrford Woking