Advertisement feature
Christian Aid Week this May is focused on helping farmers in Malawi secure a fairer price for their crops and build happier futures for their children.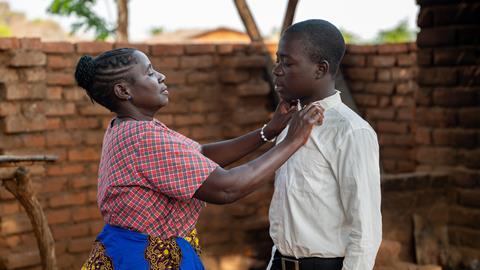 Families in Malawi are paying the price of the global crisis. Food, fuel, fertiliser and school fees have doubled in price in the last 12 months. And hard-working famers are seeing their harvests fail as the climate crisis brings increasingly erratic weather.
These problems don't only affect crops. They force dramatic cost-cutting and mean that Jen Bishop faces a terrible dilemma. Jen works hard to provide for her children. But she can barely scratch a living from the soil. Soaring costs of food, fuel, fertiliser, school uniforms and school fees are crushing dreams and keeping her family in poverty.
Now, Jen has had to make a choice. One no mum should be forced to make. Rising costs mean Jen can pay for only one of her sons' college courses. The boys have worked hard to transform their lives and have gained tertiary education places, which is very rare for young people from Jen's rural area.
Christian Aid is committed to giving everyone the chance to live a full life, free from poverty. We are united in hope that, with your help, more young people will be able to transform their lives.
This Christian Aid Week, we're celebrating how our partners in Malawi are helping farmers improve their livelihoods with pigeon peas – a drought-resistant, soil-revitalising, high-protein, low-cost, delicious crop.
Jen and her husband have two acres of pigeon peas, but they are struggling with the effects of the climate crisis. The rainfall is unreliable, and there are more storms, flooding and stronger winds.
The pigeon pea is a tough plant, able to withstand a lot – just like Jen. But to make the most of her crop, Jen needs to plant good quality seeds and sell for the best price possible, and not to unscrupulous middlemen. Which is where Christian Aid comes in, working to give families like Jen the chance to transform their lives and make their dreams come true.
Why not join The Big Pea Challenge?
Inspired by the transformational pigeon pea, we've created The Big Pea Challenge to have some pea-themed fundraising fun.
Whether you're a gardener, a cook, or just up for a bit of fun, our website resources will help you get out into your community and bring other good-hearted people into the Christian Aid movement.
We've got everything you need for The Big Pea Challenge, plus films, worship material and so much more. You might even say that our resources are pea-fect for bringing pea-ple of all ages together!
This May, why not hold your own pea-themed fundraiser to help bring real change to people like Jen and her family?