Kate Orson suggests some approaches that can help alleviate a child's fears, without minimising dreadful events around the world and nearer to home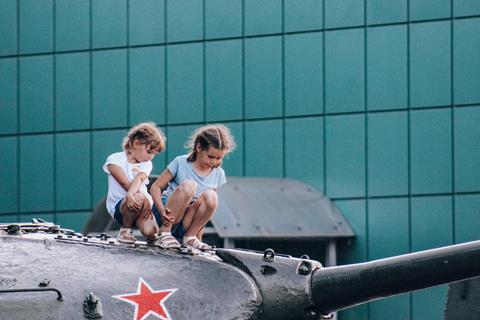 With the situation in Israel and the Ukraine, children may pick up snippets of alarming news from the TV, other children or from overhearing adults. How can we be honest about the situation while also helping to allay their fears?
The news brings up feelings in us all. I think the first step is to 'put on our own oxygen mask first.' To spend time praying, reading the Bible, and talking to God about our own emotions. As fear and worry surged up in me on hearing about the events in Israel, a piece of scripture popped into my mind from Matthew 24. 'And you will hear of wars and rumours of wars. See that you are not alarmed, for this must take place, but the end is not yet.' Matthew 24.6. With 365 pieces of scripture with the phrase 'do not be afraid' in, it's clear that God did not want us to fear. He wants us to know that he is a powerful God, that he is in control. I've noticed that the more time I spend in God's word the less I feel fearful about the future.
I think of the disciples, and how they were afraid of the Roman and Jewish leaders, until Jesus sent his Holy Spirit to them, and they began to fearlessly preach the Gospel. I think of Christians like Connie Ten Boom and other Christians who have been through horrific adversity, but made strong by the power of God.
We can explain to our children in simple terms that war is scary and upsetting, but that God is our comforter and strength. On a more 'micro' level, we are in control as human parents. We can reassure our children that they are safe, and that we will keep them safe.
We can turn a worry into a prayer, and pray together with our children for the families of those who have died or are suffering. Thinking of others can be a powerful way to draw attention away from our own feelings. Maybe doing something to support victims of war such as raising money or donating vital supplies.
Being exposed to the news might cause emotional upset, or changes in their behaviour. Children aren't always able to express in words how they are feeling (even adults struggle with this too!) They might instead pick a small reason to have a big cry or they might misbehave more than usual.
Noticing this, and responding to upsets with warmth, and empathy is helpful. Even if your child is crying about something small and 'petty' like having the wrong colour cup it can be a pretext for a deeper upset. Just being able to listen, without trying to 'fix' or stop the emotional upset, can help them process whatever upset they are feeling.
Children might have big questions. Why does God allow suffering? Why do people do cruel things? Talking about this can be an opportunity to share why sin entered the world, and God's plan to make things right again.
It can also be a chance to share Christian values. While many people are expressing strong opinions, or 'taking sides,' Jesus told us to love our neighbours, and turn the other cheek. While the world may seem full of uncertainty, it is reassuring to share with our children that we serve a mighty God who has all the answers.
Bible Verses to read, meditate on, or share with our children.
Even though I walk through the valley of the shadow of death, I will fear no evil, for you are with me; your rod and your staff, they comfort me. - Psalm 23
Peace I leave with you; my peace I give to you. Not as the world gives do I give to you. Let not your hearts be troubled, neither let them be afraid. - John 14.27
'He will cover you with his feathers,
and under his wings you will find refuge;
his faithfulness will be your shield and rampart.
You will not fear the terror of night,
nor the arrow that flies by day'. - Psalm 91
Do not be anxious about anything, but in everything by prayer and supplication with thanksgiving let your requests be made known to God. And the peace of God, which surpasses all understanding, will guard your hearts and your minds in Christ Jesus. - Philippians 4.6.

Kate Orson is a freelance writer and author of Tears Heal: How to listen to our children.
View full Profile