Becky May believes you can share the tough bits of the Easter story. and gives you some clues on how to go about it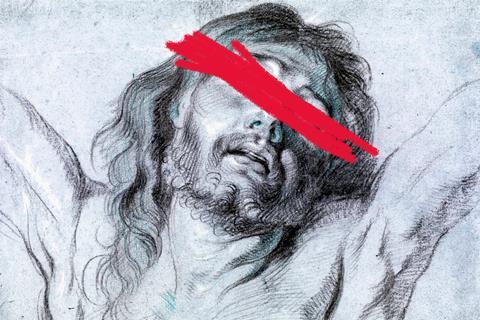 I love trawling through charity shop bookshelves, hunting for obscure treasures so I was recently thrilled to discover an antique (well certainly vintage) children's bible story book. It included all the expected stories with the usual illustrations; Noah and the ark with two giraffes on view, Daniel and the very friendly looking lions, the baby Jesus in the perfectly clean stable, surrounded by a full host of nativity characters. But towards the end of the book, I discovered something surprising. There was the story of Jesus' triumphant entry into the city of Jerusalem on the back of a donkey followed immediately by his resurrection on the following page! For fear of upsetting children, the authors of this particular retelling of the Bible chose to erase one of the most fundamental stories of our faith.
A buthered Bible!
Sadly, and rather worryingly, this is not the first time I have encountered this editing (or butchering, perhaps) of the Bible in children's storybooks. Of course, all storybook Bibles can give only a flavour of God's big story, but the crucifixion of Jesus is a central issue which we cannot ignore.
In Steve Turner's poem, 'Christmas is really for the children', he highlights our reluctance to share the story of Jesus death and resurrection, preferring to hide behind rabbits, chickens and a cream-filled egg. "Or they'd do better to wait for a re-run of Christmas without asking too many questions about what Jesus did when he grew up or whether there's any connection."
You see, when we don't tell children the story of Easter; the whole story of Easter we miss the point of Jesus coming to earth altogether and can't expect children to suddenly make the connection when they are old enough to understand.
During the height of the covid pandemic, I was speaking to another parent who explained her children hadn't known what it was to lose someone through bereavement, and she wasn't sure how they would handle it. Our family experience had been quite different. Due to family circumstances, our children had lived with the knowledge of the reality of death their whole lives. But as Christians, we had been able to share the central hope that we have; the resurrection of Jesus and the promise of eternal life. Over the last few years, as death has walked more closely to us all, children will have experienced this for themselves, in a way not seen for several generations. How parents respond to this has varied enormously and is indicative of our own understanding of the God-given hope of the gospel.
As I write this, the words of Noel Richard's Easter anthem ring in my ears; "If there were no resurrection, we ourselves could not be raised." But as I reflect on this, I remember that if there were no death, there could be no resurrection. Jesus had to endure it all in order to accomplish it all. And in him doing so, he shared our experience of death and loss and bereavement which itself brings comfort in our times of grieving.
When our children encounter the dark seasons of death and dying, they must know the comfort of the one who endured it all and overcame for us. When we teach what it means to live as followers of Jesus, we must share the central, if rather awkward, ugly story of Good Friday and Easter Sunday. For our children to know their sins are forgiven and be shown the pathway back to the God who loves us, they need to know how much that love cost.
So how do we do this?
1. Find a good Bible
In spite of my experience in the charity shop, there are many, many wonderful storybook Bibles which tell the whole story in an age appropriate way. And age appropriateness is crucial here. What our three year olds can understand, appreciate and engage with, will be very different to what our six year olds can handle, and again our ten year olds. We will have experienced what it is to unpeel the layers of a Bible story for ourselves, each time we return to it, and the same can and should be true for our children, so there need be no pressure to teach a full and thorough theology of the cross to our toddlers in order to share the whole story.
2. Speak simply
Language is really important here too. What does 'rise again' really mean anyway? Talk in plain, everyday language using words and phrases your children understand, whilst taking the opportunity to introduce some of the specific language they may encounter in this story.
3. Spot the stage they are at
Respond to the needs and interests of the children, encouraging them to ask questions. Allowing them to lead the process means that we will take it at the pace they are ready for, rather than feeling overwhelmed that we must teach it all at once. Better to have an ongoing conversation over the course of the Easter celebrations than feel we need to tell the whole thing at once.
4. Live it 24/7
Live the story. Holy week and Easter weekend give us the opportunity to remember Jesus' whole experience that week, one step at a time. We know the ending, we do not need to live in fear when all looks lost, but taking time to dwell in the story gives us the opportunity to remember and retell it all.
5. Learn together
Finally, enjoy the things you discover about the Easter story from your children; when we explore the Bible together in our families, we discover that we are all learning together, so perhaps there will be more layers to unpeel for you this year.

Becky May is a former Primary School teacher, founder of The Resources Cupboard, Mum to two no-longer preschoolers, who now has the Sophia the First theme playing on repeat inside her mind!
View full Profile