Jenni Whymark is thrilled to see England Women's football thriving and asks whether we can learn a thing or two in the church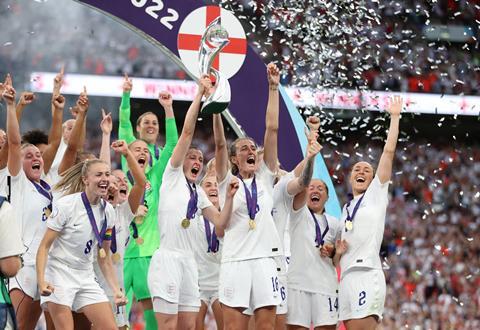 Sunday 31st July 2022. Kick off at 5pm it meant that the whole night-time routine wasn't going to plan. Dinner was eaten with the game on a tablet, then bath/bedtime pushed later so that I could watch the game. When it went to extra time it was clear that my nearly 2 and 3 and a half year old really did need to go to bed! So the tablet went to the bathroom and bedroom and somehow the time for Bible stories fell at the half time of extra time!
As the full time whistle blew I sat and reflected on what had just happened. I wrote this post which I shared on social media:
🥂 here's to the girls who weren't allowed to play.
🥂 here's to the girls who were repeatedly told football is for boys.
🥂here's to the girls' teams who had to play on the worst pitches so that the boys 1/2/3/4 teams got the good ones.
🥂 here's to the ones who kept asking to play
🥂 here's to the next generation never facing those battles.
⚽️ 🏴󠁧󠁢󠁥󠁮󠁧󠁿 well done Ladies 🦁 ⚽️ 🏴󠁧󠁢󠁥󠁮󠁧󠁿
Something had shifted. And I, along with many others, was pleased.
I was about six when I decided that I liked football, and thanks to my dad taking me to Loftus Road (the home ground of Queens Park Rangers) from a young age it was a passion I shared with him growing up. I liked playing too, but a passion for the game didn't mean there weren't obstacles. The things I wrote for my socials were things I had experienced myself: not being allowed to play; being told it was a boy's sport; that I must be gay if I wanted to play; joining the football team at uni and many times getting the dregs of pitches because all the guy's teams needed the others. But I still enjoyed playing. I was never the best player, but I enjoyed it.
Does it matter that it was the girls that 'brought football home' and not the boys? Yes! Because people start seeing women's football differently. Now, with two daughters, I'm pleased that they won't grow up with the same thoughts passed around, and they will be able to experience different opportunities in football if they want too.
What can we learn from this for church?
1. Representation is important.
The ladies team winning shows girls that if they want to play football, they can. In church/faith it's important that children and young people see potential for themselves to play their part. Not everyone will want to do everything, but it's important that they can "see" themselves in different roles, regardless of gender, age or other differences.
I love the idea of a church where there are children and young people actively encouraged to serve and be a part of things. On the welcome team, refreshments, in the worship bands, involved in elements of the service, leading within the children/youth work… because those with a role to play feel more connected in and are more likely to stay.
2. Sport is important
Over 87,000 turned up to watch the final and millions more watched on TV. With the Women's Euros, Commonwealth Games, Wimbledon, and then the World Cup coming in November, sport is a huge part of life for lots of people. With so many more people connecting in with sport than with church, there must be ways that the church can meet people where they are at. There are so many great Christian resources to help churches use sport well. Wouldn't it be great to see churches actively engaging in sport?
Recent research into Generation Alpha (0-11's) raises concerns about predicted high levels of obesity. So what would it look like for churches to help get kids moving more? To be a part of the solution.
Looking ahead to the World Cup coming later this year, I'm excited for the potential for football to come home again. I'm sure I'll be on the edge of my seat with the rest of the nation, with the bedtime routine off plan once again. Maybe the boys will do it for us too?!
Jenni Whymark works with Scripture Union as a Mission Enabler in the South East Region

Jenny Whymark works with Scripture Union as a Mission Enabler in the South East Region