December… The month of the most important birth in history is finally here. That's right, the birth of a brand new government. Merry Brex-mas!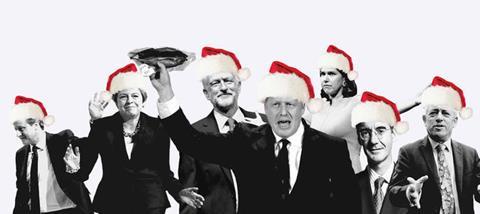 I say that in jest, of course, but if anything can put a dampener on the joy and wonder of Jesus' birth, politics has really taken the gingerbread biscuit. With a general election looming, it's time to throw out the mincemeat and get ready for big a slice of political pie. With the political breakdown proving too difficult for many adults, and even some MPs to understand, how do we explain to our children what Brexit means for them and demonstrate how God is working amid the mess?
Whether you're singing 'All I want for Christmas is EU' or 'I wish it could be Brexit every day' as we approach the December 12th election, here are twelve key dates to help you engage even the youngest family members in the unavoidable political debate over the Christmas table.
On the first day of Brex-mas politics gave to me:
A surprise vote for all the Torieeeesss
On 23rdJune 2016, then-Prime Minister David Cameron seemed certain that the vote on whether or not to leave the European Union (EU) – which could be best described to children as a 'club' of countries in Europe that share resources and work together – would swing in his favour. Much to his surprise, most of the country wanted to go it alone. Many people were unhappy with the decision, Cameron included, and four million signed an online petition for a revote. Despite the upset, the government said no.
What does the Bible say?
Our children need to know that things (like the Brexit vote) don't always go the way we want them to. Whatever happens with Brexit, we know that God is in charge. The Bible says: "Many are the plans in a person's heart, but it is the Lord's purpose that prevails" (Proverbs 19:21).
On the second day of Brex-mas politics gave to me:
Theresa in for Cameron
With everything going wrong, David Cameron stepped down as Prime Minister and let his successor, Theresa May, take the stand. Having previously admitted that she thought leaving the EU would be a huge risk, May delivered a speech on 17thJanuary 2017, promising to deliver on Brexit.
What does the Bible say?
We are sometimes instructed to do things we don't really want to do (like May achieving a Brexit deal she didn't believe in). Think of the prophet Jeremiah, who told God he was too young and afraid to prophesy. God tells him: "You must go everywhere I send you to and say whatever I command you" (Jeremiah 1:7).
On the third day of Brex-mas politics gave to me:
Article 50
May began a legal process known as Article 50, a simple plan for any country wishing to leave the EU. Because leaving this 'club' isn't as simple as returning your badge, this five-step plan gives prospective leavers two years to get everything ready before saying goodbye. When explaining to children, it's worth noting that in this club people shared belongings and secrets and even backed each other up when being picked on by other countries. It's like being friends – it wouldn't be fair to just walk away without talking things through. On 29th March 2017, Article 50 triggered the Brexit countdown clock (which we now know nobody was listening to).
What does the Bible say?
Acting in the heat of the moment rarely creates the best outcome. Proverbs is full of advice on taking your time: "Wise people think before they act; fools don't" (Proverbs 13:16 NLT) and "Intelligent people think before they speak" (Proverbs 16:23 GNT).
On the fourth day of Brex-mas politics gave to me:
MPs take a vote
May's government was forced to give all MPs (a person who has been voted in by people who live in their local area and helps make political decisions) a final say on the Brexit deal. This meant she could not go ahead without the approval of most MPs (something we're still waiting on two years later).
What does the Bible say?
While this meant dragging Brexit out for longer, giving MPs a choice maximised the chances of getting a good deal. When something really counts, looking at it purely from your point of view may not guarantee a good outcome. "The way of fools seems right to them, but the wise listen to advice" (Proverbs 12:15) and "For lack of guidance a nation falls, but victory is won through many advisers" (Proverbs 11:14).
On the fifth day of Brex-mas politics gave to me:
Leave by 20-9-teeeeen
It was decided that the UK government would have until 29th March 2019 to leave the EU. Perhaps naively, May thought that a year would be more than long enough (but oh little drummer boy was she wrong!). Her plan was said to be80 per cent complete, but things didn't go smoothly for long. The Brexit Secretary resigned, quickly followed by Foreign Secretary Boris Johnson. March 2019 looked unlikely!
What does the Bible say?
The Bible talks about how God's timing doesn't always match ours. How many times have you prayed for something only for months, or sometimes even years, to go by before it happens? "With the Lord a day is like a thousand years, and a thousand years are like a day" (2 Peter 3:8).
On the sixth day of Brex-mas politics gave to me:
Theresa May is dancing
May was caught throwing some of her signature dance moves while walking onto the stage at the Tory party conference in October 2018. With ABBA playing in the background, she drew laughs from the audience, perhaps because she looked more like she was doing the robot than "digging the dancing queen". Nonetheless, after a week of tough questions from the EU, she gained respect, with Tory MPs tweeting about her "totally brill" act of pure joy.
What does the Bible say?
God says that there is "a time to weep, a time to laugh, a time to mourn", and perhaps most importantly "a time to dance" (Ecclesiastes 3:4). May deciding to dance on stage at an important conference teaches our children that even when things are collapsing around us, bringing a little joy to a situation doesn't hurt.
On the seventh day of Brex-mas politics gave to me:
PM gets called 'crazy'
After May published her draft withdrawal agreement in November 2018, four members of her cabinet (her inner circle) – including the second Brexit Secretary, Dominic Raab – resigned. Instead of giving in, May insisted she would "see it through" no matter what. Her proposal was eventually accepted by the EU; a huge step in the right direction.
What does the Bible say?
You won't always have the support of those around you. In fact, the Bible says Christians won't have it easy. But how wonderful to be able to say at the end of your life: "I have fought the good fight, I have finished the race, I have kept the faith" (2 Timothy 4:7).
On the eighth day of Brex-mas politics gave to me:
First successful leave deal
Finally presenting her Brexit deal on 15th January 2019, MPs voted against it in the biggest government defeat in almost 100 years. The following day, May survived a vote of no confidence (where MPs decide whether or not they want the current leader to continue). While it was won by a margin of only 19, she survived to see another day in Downing Street.
What does the Bible say?
Even when people mistreat us and it looks as though there's no hope, God can step in and change the situation. We see this in Genesis, when Joseph addresses the brothers who had sold him into slavery: "You intended to harm me, but God intended it for good to accomplish what is now being done" (Genesis 50:20).
On the ninth day of Brex-mas politics gave to me:
BoJo in for PM
With May's withdrawal agreement being rejected on the day the UK was supposed to leave the EU, and an agreement made for Brexit to officially occur on 31st October 2019, it was the Prime Minister's turn to throw in the towel. On24thMay, after weeks of campaigning with her new and improved Brexit deal, enough was enough. On 23rd July2019, Boris Johnson became the third Prime Minister to oversee the Brexit process.
What does the Bible say?
Johnson was known globally for his outrageous comparisons of Muslim women to letterboxes, his questionable choice of hairdo and being incredibly posh. But the Bible teaches that our past does not define us. Look at Paul, once a murderer who swore to eradicate the Church. As it says in Ezekiel 36:26: "I will give you a new heart and put a new spirit in you."
On the tenth day of Brex-mas politics gave to me:
Queen suspends all dealings
Johnson tried to fix the Brexit mess, appealing to the Queen to suspend parliament in September. This was seen as a move to block MPs from thwarting his deal, but Johnson promised it was just a much-needed break, allowing him to start putting a new plan into place. At the end of the sabbatical, the Queen announced that she was fully supportive of the UK leaving the EU on 31st October.
What does the Bible say?
Sometimes stepping back and taking a break, even when you feel you need to act, is vital. When everything in your life is pushing forward, God may tell you to stop and think. After all, he took a break at the end of creation. "By the seventh day God had finished the work he had been doing; so on the seventh day he rested from all his work" (Genesis 2:2).
On the eleventh day of Brex-mas politics gave to me:
Johnson is found guilty
With MPs up in arms, the Supreme Court ruled on 24th September that Johnson's shutdown of parliament was illegal. With Brexit looking unlikely to be completed by 31st October, he wrote to the EU asking for more time. However, Johnson didn't sign the letter with his name, as required by law, instead sending a second letter alongside it asking the EU not to delay Brexit. Confusing, I know, and also very sneaky…until he got caught and was found guilty of illegal activity for the second time.
What does the Bible say?
Whether we are in powerful leadership positions like the Prime Minister or at the bottom of the heap, nobody lives a perfect life "for all have sinned and fall short of the glory of God" (Romans 3:23). Thankfully, that's not the end of the story. As it says 1 John 1:9: "If we confess our sins, he is faithful and just and will forgive…"
On the twelfth day of Brex-mas politics gave to me:
Christmas General Election
EU leaders agreed to make the Brexit leaving date 'flexible' until 31st January 2020, meaning the UK could leave anytime up until then (I can't be the only one who thinks even that is unlikely!). Following this, Johnson secured (on his third attempt) backing to hold a pre-Christmas general election, potentially paving the way for a fourth Prime Minister to finalise the Brexit process. For now, our political future is unknown.
What does the Bible say?
Jesus tells us not to panic about the future. "Can any one of you by worrying add a single hour to your life?" (Matthew 6:27). We don't need John Bercow to restore 'order' in our lives. Order will restore itself thanks to God, who is in control.