Dawn Savidge helps you talk wisely about the Return of Jesus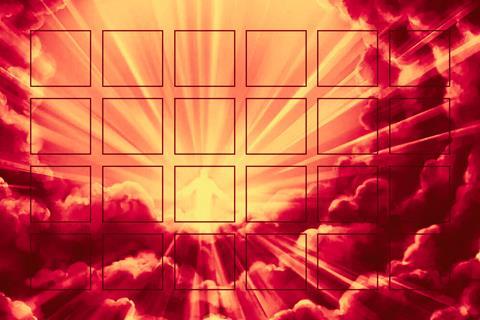 The first church that I remember going to as a child was a small Assemblies of God church in the middle of a big housing estate. It was a multi-cultural church, full of people who spoke in tongues, played tambourines with gusto, and prayed loudly and with passion. I loved the vibrancy and warmth of the church. Our next church was a polar opposite: a small traditional Baptist church where everyone kept themselves to themselves, prayer was quiet and restrained, and there were no tambourines. Everything felt sombre.
The churches that we become part of shape our faith and how we see God, particularly if we aren't exploring faith as a family at home outside of a Sunday. When I was growing up, my parents passed on what they had understood of faith to my sisters and me. My mum is American and went to the Lutheran church. They wereSGospelScentred in their teaching but also very God-fearing and so my mum and her family were openly taught about the Second Coming, hell, judgement and sin. In turn, this influenced my mum's faith and her understanding of who God was.
We read about people deconstructing their faith which to my mind is essentially going back to God's Word and unpicking what we have been mistaught as a child. Some of my friends have deconstructed their faith to the point where they have walked away from the church, believing that it was all a myth, and that God doesn't exist. Others have really tried to grapple with some deep theological questions and as a result, have a much stronger personal faith.
One of the things that we were taught as children was about the Second Coming of Jesus. We were told that it would happen when we least expected it and so we needed to be ready. I do remember feeling quite scared as a child, that I wouldn't be ready and would do something naughty just before Jesus came back and be left behind. There are people who, like me, have been deeply traumatised by some churches teaching of the rapture, and some who will walk away as a result.
Then in the early 2000s, the Left Behind series of books came out. I read all 13 of them, twice. There was a kid's version as well. I watched the films, even the one with the terrible acting that Nicholas Cage was in. Surely this was how the Second Coming was going to happen?
Much has been written about the prophesies given in Revelation, Daniel and the Gospels. In all truth, we don't know how it will happen, we just know that it will. Scripture tells us that only God knows the time.
So how do you talk to your own children about the Second Coming without freaking them out?
A little girl in our church asked her mum when they would see Jesus and what He looked like. The mum very gently explained that one day she would meet Jesus again, but she wasn't sure when that would be, but it would be an exciting day when it did happen. She described Jesus as depicted in Revelation 1:14-16 (although she left out the flaming eyes which might have scared a four-year-old!). She made sure that she explained it all in an age-appropriate way and answered any questions. She was able to do this because of the way that the family naturally talks about faith in their home day-in-day-out.
My children are now 14, 16 and 19 and more capable of understanding deeper Biblical truths about the Second Coming. As a family, we do talk about the signs of end times and how as Christians, we can help those around us meet Jesus for themselves. We can talk in this way partly because of the work that I do in the Christian world and the privilege that I have of being able to work alongside Christians who are preparing for the next season, but also because of the place that God conversations have always had in our family home.
I thought I'd share a couple of top tips about sharing faith at home.
1. Read the Bible for yourself.
Your own personal devotional time is key to developing your own relationship with Jesus. If you haven't yet built this into your day, start here. I read my Bible every morning as it's the time that I know I have the most time to myself. When the children were little, I would wait until they went to bed. The Lectio 365 app is great to play in the morning and the evening if you really are struggling for time.
2. Pray as a family.
Pray at mealtimes, bedtimes, on the way to school or when you see an emergency services vehicle fly past you in the road. Prayer is a natural way to have a conversation with our Heavenly Father. The more that our children can see that, the more that they will feel able to do that for themselves.
3. Create pause moments.
One of our favourite annual family traditions us our Thanksgiving meal. When the children were little, I used to create ways that we could capture things that we were thankful for during the year. I created a paper tree with leaves that we could write our thankful notes on, a blessing box that we could add notes to and a monthly thankful board that I could take a photograph of. Then during the Thanksgiving meal, we would pause to read the notes that had been written over the year and thank God for the way that He had provided for us. Whether it was a beautiful walk that we had or a prayer that He had answered. Creating these pause moments help our children see God in the everyday and remind us of what He has carried us through in the year.
4. Encourage questions.
We can get so used to children being sent to their age-appropriate group on a Sunday and us sitting in the adult service, that we can forget to talk about what we have learnt. Try to have a conversation over Sunday dinner. Don't forget, you don't have to have all the answers.
5. Skip the guilt.
Faith formation happens in stages, and lots has been written about this. It is normal for our children to question the faith that they have been born into. This doesn't mean that they don't believe, this just means that they need to work out what they believe for themselves. This might look like them not wanting to go to church anymore. Don't guilt-trip them. Instead, pray for them, keep encouraging honest questions and keep moving forward with your faith at home traditions.

Dawn Savidge has been a single parent for 15 years and blogs at www.soloparentfaithadventure.com
View full Profile