Alarmed about your child getting some unhelpful ideas from psychology? Grace Moxon believes that studying psychology may even help bolster their faith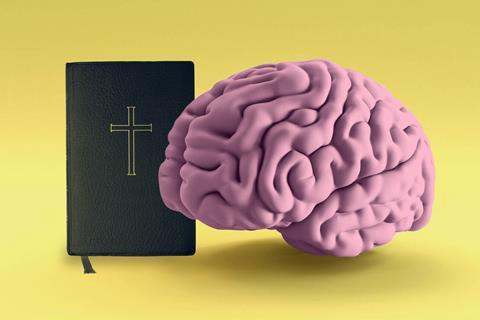 Let's start with some basic questions and then unpack why I think christian children can benefit.
What is psychology?
Psychology covers the study of people and animals; including how we think, behave, develop and learn, our motivations, desires, health, and relationships. It also considers what we can do when these things require help and attention. It presents theories and models to explain behaviour, interactions and motivations, to gain understanding about how we work.
Is psychology a science?
Yes! Psychology also covers the biological aspects of how our brains and senses work. It's so much more than just mental health, Freudian philosophies or wacky experiments. This science-based subject delves into a full and rich understanding of different aspects of how we operate including how thoughts, memories, growth, development, language acquisition and motor skills work, and associated brain activity.
All studies are ethics-approved and results are calculated through high-level statistical analysis, using maths and often biology to test theories and consider supporting evidence. Psychology, therefore, provides a bridge between natural and social sciences.
Psychology and the bible
One thing I have loved about studying psychology is seeing just how much wellbeing advice lines up with the Bible.
How the two align
Psychology addresses central themes found all across the Bible concerning aspects of the human personality: described as the mind, soul, will, emotions and body (i.e. the core of the human experience). The Bible gives clear and insightful advice around all these aspects of being, where we clearly see that God cares about how we think, feel, make decisions, and relate to others.
Similarly to medicine or studies of the body, psychology invites us to delve into the beautiful intricacies of how God has formed us. I love that even within this science-based subject, there are so many nuggets that align with the truth of God's word.
Gratitude
A great example of this is gratitude. Gratitude has received increasing coverage in recent years as modern psychology catches up to the Bible, highlighting the physical and mental health benefits of regular thanksgiving. It has been shown to enhance happiness, positive emotions, relationships, optimism, decision-making, patience, sleep quality, and exercise frequency, among other benefits.* The Bible, years ahead of psychology, encourages us to 'give thanks always', 'pray with thanksgiving', and 'rejoice in the day the Lord has made'.
This made me fall more in love with God and His word as I saw how His principles and teachings are actively designed to bring health and wellbeing to us.
Over the last few weeks, I have joined with a friend to send a daily message about the things that we are grateful for. This has notably helped my sleep, mind and emotional state, as well as encouraging my faith as I notice all the good things that God has placed in my life and how He has been at work in my day. I have been surprised to see just how powerful this has been.
Psychology and faith
There are of course aspects of psychology that may challenge your views and emotions. Here are a few of my top tips for when you come across these things:
1. Weigh against the Word of God
As with any aspect of modern day science and culture, it's worth weighing up information against the truth of the Bible, in prayer. However, I have found much of what I have learnt to be complementary, rather than contradictory, where studying the detailed way we are created has actually enhanced my faith.
2. Consider what you're putting your hope in
When presented with theories, techniques, habits or even worldviews that denote certain things that will 'make you happy, healthy, or get you what you want', we are wise to weigh these against the truth of the Bible. We are to obey his commandment to seek Him first, and to put our hope first and foremost in Him, where we ultimately understand Jesus to be 'the way, the truth and the life' (John 14:6).
3. Direct your empathy
When psychology highlights the suffering and pain that people experience, I'm reminded of the love and compassion of Jesus, and how the gospels show us how He beautifully cares for those who are poor, needy, sick or lonely. This motivates me to show love and care to people who are struggling, and look to Him when I am feeling overwhelmed.
4. Trust God with the things that feel out of control
When psycholiogy highlights things that feel out of reach or out of control, for example how our bodies decline, it reminds me of the importance of ultimately finding peace in and putting my trust in Jesus. We can rest in Him, knowing that He cares for us, that He numbers every single hair on our head; and the intricacies of how we work, think and behave are so very known to Him.
For the sake of others
Psychology is a widely applicable study. We find psychology roles in health, education, social support, counselling, sport, aviation, marketing, environment, law, forensics and HR to name a few. Having a psychology-informed approach combined with a faith-based perspective, creates opportunities for Christians to be right at the centre of bringing about positive change in many different spheres.
Particularly at a time where the need for support with mental health and wellbeing is on the rise in society, an understanding of psychology can help Christians to act safely and effectively on the forefront of this, expressing the same heart of compassion exemplified by Jesus.
Learning more
Hopefully this has inspired and encouraged you of the exciting possibilities associated with studying psychology and all there is to learn. Here are a couple of recommendations of literature and videos I would recommend to give you further insight.
Recommendations
Atomic Habits - James Clear
This book is a great taster for anyone that might be interested in studying psychology. It's incredibly practical, describing the psychological tips and tricks you can employ to help build effective habits that will last.
Character course Roger Bretherton
A series of short videos looking at the intersection between faith and psychology in different key areas of overlap including, hope, gratitude, learning and more, all from a biblical and psychological perspectiv
REFERENCES:
* https://positivepsychology.com/benefits-gratitude-research-questions/
You can find other subjects in the series 'Studying as a Christian' here

Grace Moxon is Psychology graduate from the University of York who is passionate about people experiencing freedom and wellbeing. She currently manages a Renew Wellbeing space in Bradford and runs a small calligraphy business.
View full Profile