Charles Merritt gives a cautious thumbs up to a super hero comedy that made him laugh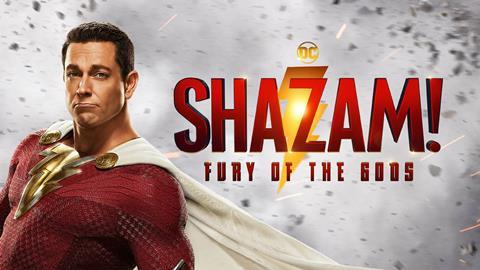 The Film: Shazam! Fury of the Gods
Rating: 12A
Watch if you liked: Shazam
Running time: 130 minutes Genre: Superhero, Comedy
Overview: When the Daughters of Atlas come to regain their powers, Billy Batson and the Shazamily must work out what it means to wield their powers as well as what it means to be a family.
What you liked: You don't get many edgy family films anymore. The Goonies, Indiana Jones, Back to the Future - the 80s had them all*. I'm not saying this movie is on par with the examples given, but it is similar in tone and style. Mainly how it's equal parts dark and edgy whilst balanced with plenty of heart and humour.
( *I guess the most recent example I can think of is the Pirates of the Caribbean movie. There were plenty of laughs to be had and a lot of well set up jokes with good pay offs. Some of the jokes get a bit repetitive and some feel unnecessary but on the whole the comedy mainly worked.)
The mixture of Greek myth and superhero is interesting (as previously seen in another DC film, Wonder Woman) and adds an extra level to the story telling. Helen Mirren could have easily phoned in her performance as one of the daughters of Greek god, instead she plays the role with so much vigour it's beautiful to watch.
Representation is actually one of this film's strengths. Both age and race were on full display here and it's not played for applause, it simply exists and it's lovely.
The family of foster kids are brilliantly played by their young actors. Just like the first film, Freddy Freeman steals the show (played by the charismatic Jack Dylan Grazer) and it's good to see him have a lot of screen time again. Grace Caroline Currey, the only actor to play both their non-superpower and super-powered version of their characters, also does a great job and I think she has a chance of landing some bigger roles in the future.
What you didn't like
It's a little confusing. I just about kept up with the plot but I can imagine those younger struggling to fully understand what was going on - especially when it came to the mythic lore.
As much as I think it is a good movie, and it is a good movie, it's not the greatest movie of all time. There are definitely pacing issues and some moments that feel slightly too long or drawn out.
Unfortunately, the mid-credit scene left a bad taste in my mouth. I won't bore you too much but DC Films is changing hands. Guardians of the Galaxy and The Suicide Squad director/ writer, James Gunn, is taking over as Head of DC Films. This either means that any hint of future sequels or plot lines are not going to go anywhere or they are and they'll focus on the characters that James Gunn has already invested in. Personally, although a big fan of his work on the Guardians of the Galaxy films, I haven't enjoyed his take on the DC universe as of yet and so am not 100% he's going to take it in the direction I would have liked. It also makes another cameo that takes place in the film, feel questionable. You're left wondering whether this is the last time we'll see this character as portrayed by their actor/actress (I won't spoil who it is - but you may know as Warner Bros made the baffling decision to show it in a recent trailer…) and if it is, it'll be an underwhelming exit for such a pivotal role.
Thoughts for parents
Some quick housekeeping before we enter the meaty faith discussions. There's some bad language in the film and there are slightly scary moments (as discussed with the 80s family film comparison). It's perfect for 12 plus, but I doubt you'd want to let any children under that age watch it. I would say it's not as scary as the first film but still might give kids nightmares depending on their scare levels.
Faith wise, then, what does Shazam have to teach us?
As someone whose parents foster, I love the family aspect of both Shazam films. It's great to see a positive portrayal of foster families and children.
Whereas in the first film, Billy learns to accept the love of his new family, this film he explores how to manage being part of a family. He's terrified of being rejected by his new family that he has grown to love. There's a particular fear of letting go of people so that they can grow and develop by themselves, and Billy starts to fall into the trap of being a very controlling sibling.
I wonder how we can be guilty of this in our own families? Whether biological, foster or church? In what ways do we hold young people back because we're scared that they might not need us or want us anymore? In what way is that fear actually our own insecurity and not in the young person's best interests?
Billy's biggest problem is imposter syndrome. He's become this superhero but hasn't a clue about what his powers really are, what he's meant to be doing and how he's meant to lead his siblings. There's a really funny joke about Solomon that I won't ruin but still has me chuckling now. I think it's probably safe to assume that most of us have suffered with 'imposter syndrome' at some point in our lives. Or on a daily basis?
It all comes down to what it means to be worthy, a theme continued from the first film. The Wizard tells Billy towards the end of the movie, "Anyone can be worthy, if given a chance." How quick are we to judge other people and deem them as unworthy of God's love? What opportunities do we give others for them to know that in God's eyes they are worthy of the ultimate sacrifice? Especially as we approach Easter, it's important to hold that in our hearts. Jesus died for you because he believes that you are worth saving, even if you or those around you don't.


Charles works as a Creative Content Developer for Youthscape. He also studied screen writing at university and regularly takes part in improvised comedy.
View full Profile