Lisa Skinner finds much to appreciate in this re-telling of a Disney classic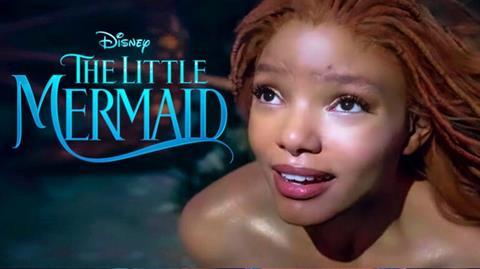 Film: The Little Mermaid (Walt Disney Studios))
Rating: PG
Running Time: 2h 15m
Genre: Fantasy/Musical
Overview:
This movie is Hollywood's latest reimagining of Hans Christian Andersen's classic fairy tale The Little Mermaid. From the very beginning it's fantastical and enchanting, set in a vibrant underwater kingdom known as Atlantica. The story follows the journey of Ariel, a curious and adventurous young mermaid with an insatiable love for the human world. Ariel's deep fascination with humans leads her to explore shipwrecks, collect human artifacts, and dream of a life beyond the ocean's depths. However, her father, King Triton, disapproves of her obsession and sets boundaries for his daughter. In order to protect his kingdom and his family from danger, he forbids them from venturing into the human realm.
Ariel's sense of being trapped by isolation and fear is mirrored by a human prince named Eric, dissatisfied with his life he also longs for something more. Everything changes when Ariel rescues Eric during a violent storm. Instantly smitten, she makes a deal with the banished sea witch, Ursula, to trade her beautiful voice for a pair of legs, giving her a chance to be with Eric on land. As a voiceless human, Ariel faces numerous challenges in navigating the unfamiliar world, but her determination remains unyielding. With the help of her loyal and humorous underwater friends, Flounder and Sebastian, and Scuttle the seagull, Ariel must race against time to make Eric fall in love with her before the enchantment is broken. Along the way, she discovers the true meaning of sacrifice, friendship, and the power of her own voice.
What I liked:
The Little Mermaid weaves a tapestry of breathtaking visuals, showcasing the wonders of the underwater kingdom, as well as the enchanting beauty of the human world. The film combines heart-warming moments with thrilling adventures, culminating in a climactic battle between good and evil, as Ursula must be conquered to restore harmony to both worlds – above and below the sea.
For me, the overarching love story of this tale is that of a father for his child: it is King Triton who exercises forgiveness and sacrifices his power and then his life for the sake of his daughter Ariel. We later see him resurrected and although he allows Ariel to continue to live as a human, which was not his ideal for his daughter, the movie concludes with the appearance of the King, majestic and present in the human world, to tell her that he will always be there for her, somewhat reminiscent of Jesus promise to be with his followers in Matthew 28: 20.
What I didn't like:
The only negative thing I could say about this film is that it is a lengthy watch and for that reason it may be too much for very young children to sit through. Nevertheless, there are so many themes that can be unpacked from this movie. It is brimming with magic, remarkable characters, unforgettable music, and an empowering message about love and sacrifice.
Thoughts for parents:
The storyline deviates, in a number of ways, from that of the original Disney version of The Little Mermaid (1989) that many of us will know and love. One of the stark differences involves Ariel herself, rather than cast a white woman with red hair in the role of the Disney Princess, Disney chose a black woman with dreadlocks (Halle Bailey). In fact, all of King Triton's daughters appear to be representative of several tribes and nations – which is somewhat reflective of the societies we ourselves live in, it is also something that will appeal to many young girls of colour who get to see themselves in the role of a Disney Princess who looks just like they do.
I took my three daughters to watch The Little Mermaid with me (eight, eleven and 13 years of age), it appealed to each of them in a different way but all of us would highly recommend a trip to the cinema to see it for yourself!


Lisa Skinner is co-owner of Order in the House - a Decluttering and Professional Organising company in Northern Ireland – find out more at www.orderinthehouseni.com
View full Profile