Dawn Savidge believes this show offers a great chance to have those all important conversations about romance with your teens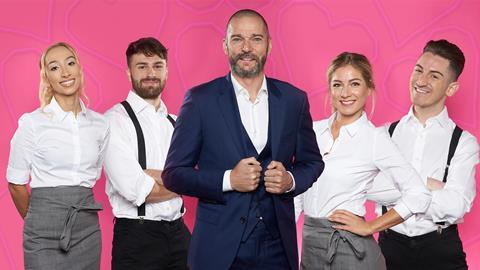 TV show: Teen First Dates (seasons 1-2)
Running time 60 mins (including ads)
Genre: Reality-TV Romance
How to watch: Channel 4 and catch up on All4
Overview: A series of 16 to 19-year-olds take their first steps in the land of real-world dating
What I liked
My children are 15, 17, and 19. As a family, we have been fans of the First Dates programmes for years. First Date Hotel, Celebrity First Dates, First Dates, and now Teen First Dates. As a parent, it opens conversations about dating from a Biblical versus world perspective. We often talk about what is appropriate first date conversation, what physical contact on a first date looks like, and the difference between lust and love. It gives us chance to think about what it means for us as Christians, to enter a world where dating and connection often starts virtually and ends up very physical after a short space of time. We love the show so much, that when I was single, my children would often say that they were going to apply to First Dates for me! Fortunately, I am now dating a lovely man, so my children have stopped pressuring me!
But what is it that appeals to us? Humans are naturally attracted to other humans. We have been created to be in relationship with one another. We like to see into other people's real-life dramas and watch how they navigate tough stuff that maybe we are walking through too.
My son first saw an advert for the up-and-coming Teen First Dates TV program on social media. He has been on TV a few times in minor roles, so he had some understanding of the industry. The application form was thorough. Questions like, who you are, and what you are looking for in a person (physical and personality characteristics). He completed the application and sent it off. Then came the 'you are through to the next round' email from the producers to both his and my email box.
We sat down and talked. My son had talked openly about his faith on his application form and his desire to meet a Christian girl. We spoke about how the media often negatively portray Christians, no matter how much we pray beforehand and let God shine through our actions and words, program editing is a very powerful tool. We declined to take the process any further. In the weeks and months that followed, my son admitted that he was probably more after the fame of being up-front-and-centre on the program than finding a beautiful Christian girl.
Teen First Dates continues to follow the same format as the original programme. The first episode saw a pairing of science 'geeks', two people who knew each other from home, a lesbian pairing, and two teenagers who were portrayed as being quite clueless. One of the young people said, "I feel like teenagers love more. Teenage love and real love are very different". But is it?
I can only guess what motivates young teenagers to appear on Teen First Dates. For my son, it was to be known by people beyond his own world. For one of the pairings in the first episode, it was because they had never had a first date or a first kiss and felt like they were missing out. It may be that they have watched their own parents' love story over the years and want that for themselves.
What I didn't like
There are of course a mixture of values on sexual ethics etc… displayed in the show, which I wouldn't support.
Thoughts for parents
1. Don't shy away from the programme.
If you know that your children are already watching it, watch it with them. It is a great place to help you start conversations about dating with them.
2. Think about your own dating journey.
Some of you may have met the 'love of your life' when you were a teenager. Some may have been through abusive relationships. Some may be divorced. Some may not be able to look at their spouse without wishing they were someone else. Some may have the deepest connection with their spouse and love spending time with them. My point is, no two journeys are the same. What happened to you, might not happen for your own children. Share some of your wisdom with your children in an appropriate way.
3. Read a good Christian book on dating.
One of the best books on dating that I have ever read is 'Sacred Search' by Dr Gary Thomas. There are some good books out there. Yu may also wish to try 'Relationship Goals' by Michael Todd and 'Outdate'd by Jonathan "JP" Pokluda. The dating world changes so fast. This gives you an opportunity to have a good look at the dating world now versus what God says.
4. Read your Bible.
Know what God says about dating, marriage, and identity. If you are part of a church, maybe consider starting or joining a house group that specifically looks at real-life issues like raising teenagers.
5. Keep talking.
The more that you have natural and honest conversations with your children about dating, the more that they will look to you for advice when facing dilemmas. This is not so you can become the dating police, but so that you can help them navigate with prayer and wisdom.
Dawn Savidge has been a single parent for 15 years and blogs at www.soloparentfaithadventure.com