Rob Parsons' message is that you never know the impact your work might have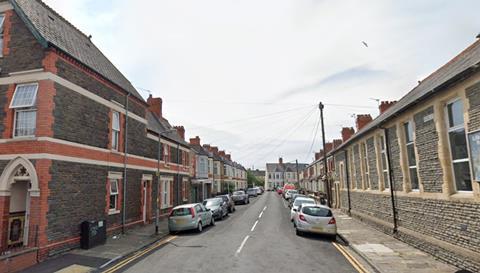 My parents didn't go to church. I'm sure they both had some kind of faith. I remember my mother teaching me to say the Lord's prayer. We lived in a tiny little street, in a little terraced house. On the corner of the street was a Brethren assembly, Mackintosh Gospel Hall. One day the Sunday School teacher Miss Williams, came and knocked on every door in our street. As the adults opened the door she asked the same question: "Are there any boys or girls who would like to come to Sunday school?"
My mother said I would like to and so, aged four, Miss Williams took me by the hand and led me down the road and into the world of Sunday school. She was an incredible person - she never did get married, never had kids of her own, but in many ways she had hundreds of children. And we loved her, including for the little coloured stickers she gave us if we turned up a class and we would swap a rare 'Feeding of the 5000' for a not so rare, 'Jesus walking on the water'. We looked forward to the stories. Our favourite was David and Goliath because we all had a bully in school we'd like to see decapitated! She was just an incredible person. Miss Williams made us feel special. You got the sense you would break Miss Williams' heart if you missed that class. Miss Williams never knew the effect that she had by knocking on that door that day.
It wasn't that long ago, they asked me to speak at the 100th anniversary of that little church. As I'm leaving somebody pulled my jacket, and I turn and a voice says "Do you remember me?" It was Miss Williams. And I was just able to catch myself saying that I am amazed you are still alive!
When I was about 14 or 15, I began to lose a bit of interest. I wasn't any good at school. I was about to drop out of school and I didn't really understand church. So one day I'm walking down the road and all I want to do is be a rock and roll singer. I am wearing ice blue jeans and have an Elvis Presley style haircut and 10 embassy tips in my back pocket and I'm going to band practice. And someone from church comes up to me. His name was Arthur Tovey. He and his wife, Margaret were poor. They lived in two rooms in his mother's house. He had a very bad speech impediment. They were told they couldn't have kids of their own and he'd never pass an academic exam. But they loved kids and they worked with teenagers. He said to me: "Next Wednesday, we're going to have a Bible study in our home, would you like to come?"
Well, when all you want to do is walk onto the stage in Las Vegas, a Bible study on a Wednesday is not the greatest offer I've ever had. But I said yes. He was a brilliant psychologist. He taught us the Bible for about 25 minutes and he knew we'd get bored. So he got two bits of hardboard and erected a table tennis table in his tiny room. We played ping pong with the bats up against our chest. And though they had no money they would get fish and chips for us and when we got in Margaret would have the tea brewing.
When you walked into Arthur and Margaret's home, you felt like a king. My teacher had just written in school report, "He is making no use of what little ability he has". I had just come 34th out of 34 kids in my class and I felt pretty low. But Arthur makes you feel special.
When I was about 16 or 17, he said to me, "Rob, do you ever take part in debates in school?"
I said," No, I don't I don't even put my hand up in class."
He said," I think God has given you a gift of public speaking. I'm going to teach you." That was scary because he was the worst public speaker you've ever heard in your life! But he taught me using an old flannel graph and I remember learning 'The Prodigal Son' for kids.
I wrote a book 20 years ago called 'Bringing Home the Prodigals' and we've taken that message all over the world. I've spoken that message in concert halls in Sydney, and jungles in Africa, all over the place. And he taught me to teach that story to kids.
By the time I was in my early 30s, I was a joint senior partner of a big ten office legal firm and the Law Society invited me to be a keynote speaker at their annual conference in front of 1000 lawyers in Vienna. As I am preparing to walk on stage, I thought, I think I'll ring Arthur.
I said "Arthur, I'm about to go on stage in Vienna. There's 1000 lawyers out there, you taught me how to do this!"
I was promoting one of my books in America, about two years later and the radio host, got him live on air from his house in Cardiff, and interviewed him and said to him at the end: "Well, what do you think of the boy who came to your Bible class?"
He said, "I'm proud of him!"
I cried on air.
I think that Arthur and Margaret must have been like the little boy who bought his lunch to Jesus. He looked down at that lunch and thought, it's just a lunch and there's Peter, James and John out there. Who do you think you are? But he pushes his way through the crowd and he gives what he has. I think Margaret and Arthur sat down one day and thought: we don't have very much, we haven't got much money and Arthur has a speech impediment and has never passed any theology exams, but we've got two rooms. I think Arthur can teach them a bit of the Bible. I think we can play table tennis, and if we saved our money, we could buy fish and chips. Why don't we give it a shot?
Finally he almost died couple of years ago, I went to see him in hospital. He was practically comatose. I put my mouth next to his ear and said, "Arthur, thank you, you changed my life. And I I kissed him."
So Miss Williams and Arthur, they'll never ever be on a big platform. But they changed my life and certainly they've touched the lives of many many people since. Care for the Family have just moved to new offices in Newport, costing some £3.6 million. We have called the offices 'Tovey House' in memory of Arthur.
Rob Parsons has more stories like this in his latest book published this summer, 'From The Heart' (Hodder&Stoughton)

Rob Parsons is the founder and chair of Care for the Family. As a public speaker he has spoken to over a million people worldwide and his books sold in multiple languages have sold one million worldwide.