Jordan Whitmer's saw his visit to the revival in Asbury, Kentucky, as part of what God is doing with Gen Z* students around the world.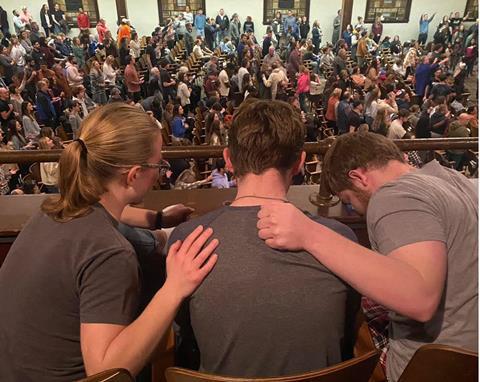 I had the privilege to visit Asbury campus the Saturday after it started on Wednesday 8th Februray. I heard what was happening and made the trip down from my home in Chicago. This was still very early on: within the first 100 hours of this move of the Lord. It was just a chapel service that went long! It went long because students led this ongoing conversation with God and it just didn't stop. It has been amazing to see how what was a localised student revival on the campus of Asbury University in Kentucky, become so well known as and the word got out through social media and people started showing up.
I know some people are sceptical and a healthy level of scepticism is valid and very important. I have that myself. But I was so encouraged just to see such a Christ centric time of people seeking after the Lord wanting Jesus to change their life. Prayer and repentance seemed front and centre and are both typically key factors in revival of the body of Christ. There are stories of more campuses around America, particularly Christian schools, around the Midwest and the South and even the West I think, having chapel services and pursuing revival and wanting to just see if God can break through.
So this 'revival' is very much focused on Jesus. There have definitely been healings and people being delivered from evil spirits. There's some powerful, deep, Holy Spirit led stuff going on there leading to repentance and 'seeking after the Lord worship' and definitely some powerful renewal taking place.
This is wonderful to see. I lead a student led movement known as the 'How to Life movement'. Back in 2015, when I was 16 years old, growing up in the US state of Arkansas, I felt a leading from the Lord to do something more to reach my friends in my community for Christ. I've grown up in a Christian family with parents very passionate about their faith and grandparents that are very active in ministry. It started with just a few of us praying around my dining room table, and turned into a team that planned an event that had over 750 people attend. And we called this event 'How to Life' talking about how to live your life and Jesus being the answer to that, and it was all student led. No one was on the stage that was not a teenager, actually, which was amazing. And it was students reaching students, given how much kids will listen to their peers. And now we had a wonderful event, the Lord showed up, and there were student worship, student testimonies in a presentation. and about 75 young people made a commitment to Christ. This became the first of what has become over 125 'How to life' movement events that have taken place across 25 US states, and then six countries around the world. The UK is the biggest country outside of the US that has really taken heed to this as well as Germany, France, Mexico and Canada
So you can see understand how excited I was to hear of God using students to reach students in Asbury. .
* Gen z students are typically seen as students aged 11-25

Jordan Whitmer is the Founder and C.E.O. of the HowToLife Movement ministry and the Z Conference, which equip Gen Z young people to make a difference for Jesus Christ around the world.