Jo Rowe wants you to keep the reason for the season at the heart of your celebrations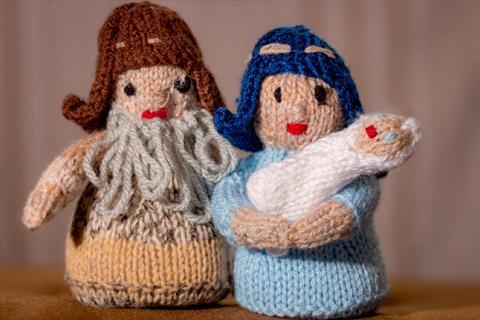 The colouring of Santas has begun. Glitter, reindeer food and flour footprints are being planned. Parents are scouring the Internet for more cheeky things. The Elf-on-Shelf can do to entertain the kids in the lead up to Christmas. And…. if you work in a school like me, the Christmas songs are already being practised and 'Little Donkey' is permanently going around your head.
And I love it all!
I love the twinkly lights and the smell of pine. I love choosing this year's Christmas decoration and I love Christmas movies (they started on the 21st of November in this house!).
But in all the glitter and hot chocolate and planning, it's easy to lose the significance of this season; heaven's rescue plan for humanity by Jesus being sent as a baby! So how do we enjoy the magic Christmas season and still make it Jesus centred?
Try these options:
As a family, we have tried lots of different things over the years, some were way too ambitious (hello, attempting to make a full nativity set out of air dry clay!) but others have stuck and become traditions. Here are some of the ways our family makes Christmas about Jesus.
Try these options:
1) An advent candle. Every year we have an advent candle and burn it each night at dinner time. We take it in turns to pray and speak out loud our gratitude. It takes a couple of minutes but it's a lovely reminder.
2) Advent Reading. There are spme great advent reading plans around. We read a verse every night around the advent candle. There are also some great resources on the Scripture Union webpage.
3) The Shoebox Appeal Every year we partner with our school to make up a shoebox Christmas present for someone who wouldn't be getting anything otherwise. We want to be like Jesus and think about those who have less.You can also pop to Waitrose or Dunelm where you can grab a card off the tree and donate to help kids in care or in need.
4) Candy canes. Each year I bulk buy candy canes (the really cheap ones from pound shops!) and we tie a ribbon around them and write a tag of blessing. We challenge our kids to give away the candy canes like a Christmas card but to give them away to kids in their class that never get chosen or people who need to feel loved. We ask them to partner with Holy Spirit and ask Him who to give them to. Over the years the kids have chosen kids at school, checkout ladies, policemen, the postman… the aim is to love people and be a blessing at Christmas.
5) On Christmas Eve we light the fire, and once all the Big Day prep is done, we settle down and read the Christmas story in The Jesus Story Book Bible (by Sally Lloyd-Jones). I think it might just be my favourite moment of Christmas. Even though my older kids have outgrown the children's bible it is such a beautiful version it never fails to move us all.
6) The Christmas Miracle of Jonathan Toome. Another fantastic book that has become our favourite. Advent really begins once we've read it! A great reminder of the power of the Christmas Story.
7) Nativity sets. We have two nativity sets. One we bought when our youngest was born, which is very bright and colourful, and we decided that this was the set that was going to be played with. It comes out every December. Now 16 years on, the nativity set is chipped and looks rather ragged but it has been such a source of joy. Baby Jesus has been in an ambulance, dinosaurs have visited him, the donkey has been ridden by Peppa pig, but I love that Baby Jesus has been the centre of their play over the years. Our other nativity sits on our mantle as a centrepiece to our Christmas.
8) Christmas worship music. It is a November mission to find new Christmas worship music every year. We love to listen to the old favourites and the new Christmas songs over Christmas. This year we are loving Crowder, The Kingsmen, Lauren Diagle and of course Rend Collective!
9) New Years Eve dream list. Every year we have a family dream session. We sit around the dinner table and we each write a dream list for the coming year. Some things are probably possible like; more paddleboarding or beating a 5k time, and others that we will need God's help with; like trips abroad or getting that book published. We then review last year's list and thank God for all that He has blessed us with this year, and all the dreams we have seen come true. It is such a privilege to dream with Father God.
These are some ways we have tried to make Christmas more Jesus centred. We are always on the lookout for new ways to celebrate Jesus coming to earth. I know that when I focus more on Jesus, I worry less about all the bustle and stress of Christmas. I worry less about the perfect Christmas present, a perfectly cooked turkey or a perfectly Pinterest-ed decorated house!
Jesus coming to bring Peace to Earth stills the busiest of strivers, so may this be a great advent season for you too!

Jo Rowe lives in Wiltshire with her husband and four children, aged between 7-15 years old.
View full Profile