With the sad news from the inquet of Molly Russell, many parents are concerned that the same thing doesnt happen to them. Claire Hailwood has been discovering how her children use social media and how she can join in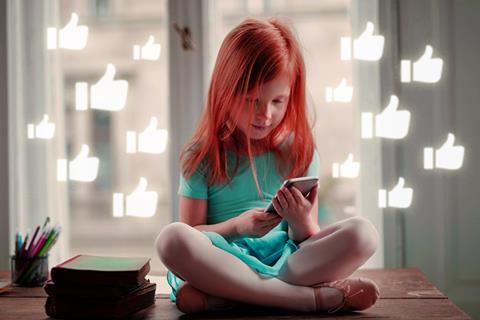 'Mum you're in the back of my B-real' I hear as one of my teenagers and her friend collapse in hysterics on the floor.
I opened my app, viewed her most recent post and sure enough, there's another photo online of me mid-crazy facial expression!
B-real is the latest addition to social media in our home, and for us, one of the conditions for our teenagers enjoying these apps, is that we get to follow them (and vice versa) hence me being able to see what they were laughing at! It's not a foolproof system – you can hide particular status updates or stories from people (we may speak from experience…) - but it's a helpful place for conversation and relational connection as we often get to laugh at things we've shared.
But how do you decide what to do re. social media?
As Jesus prays for His disciples, recorded in John 17, He reminds us that we are not of the world, that we don't belong here. But He asks our Father not to take us out of the world but to keep and protect us from evil. I've found this a helpful foundation as we've considered our approach in a few things on our parenting journey, not least social media.
Jesus prays that the Father would set us apart for His purposes, rooted in truth. That's what I long for, that my children would be rooted in their relationship with Jesus who is truth, in a world searching for it.
Yes (I hear you ask), but how?
Sadly, I don't think there's a one size fits all but here are some starting principles that I've found helpful.
Rooted in relationship
Just as following Jesus and understanding how He calls us to live should be rooted in our relationship with Him, so our approach with our children in this area should be the same. A dictatorial laying down of the law with no explanation or right to reply may sometimes induce fearful obedience, but it won't lay helpful foundations that prepares our children for life.
I'd love my children to do as we ask because they trust us, even if they disagree. It's a work in progress…
And it's two way – we need to engage our willingness to learn and flex as well because our children are often great teachers. We're learning that as trust grows, so the boundaries we've set can be loosened.
Identify your triggers
In my professional life I'd heard so many stories of teenagers negatively impacted by social media, that I was scared at the prospect of my own teenagers having access to it. When the first request came, my reaction was a flat 'no'. My daughter loves to embellish this story, adding that I said she had to wait until at least 25 before I'd even have the conversation – I don't think I remember saying that…
My fear clouded my perspective. I forgot the positives and adopted a 'head in the sand' approach. It's not great parenting and doesn't model a healthy response to something!
I am learning to respond and not react. That means I often don't answer immediately, which gives me time to get a healthy perspective that's vital for any decision making conversation.
Bigger than social media
Influences, both positive and negative, are everywhere, and if we only focus on social media as a negative, then it makes it an unnecessary battleground.
Be curious – wonder about what, where and how we're influenced, what the impact is, celebrate where that's positive and talk about where it's problematic.
And let's be gracious when mistakes are made in the hope that it's returned when we're the ones making them!
A privilege not a right
For us, having a smart phone and access to social media (and anything else!) is a privilege that we love to give, but it's not a basic human right, especially for as long as we fund them and live in the same home. It's not a threat that we hold over them, but something we remind them of when entitlement creeps in or comparison to what 'everyone' else is doing.
Particularly in the tween / early teenage years, for us, each app they wanted to download needed to be approved by a simple notification that popped up on our phone. It has meant that we do look through Instagram together sometimes and talk about who's following who and look at the 'for you' pages that the algorithms have brought to their attention. We've steered conversation towards these things where they've been positive or more challenging, rooted in our relationship. We've done so imperfectly but remain committed to it. Sometimes it's led to incredible conversations. Often, it's met with eye rolls. Sometimes it's touched a nerve and created conflict. It remains something we're committed to.
We have open conversation about screen time – theirs and ours – and what we're doing with that time and whether the balance is right. It's been challenging for us sometimes too.
Have fun
Lots on social media is awesome and for us has been an amazing way to connect – let's enjoy the nonsense and fun, the silly challenges and creativity with them!
Lastly, most importantly, PRAY.
There's not a one size fits all approach even within the same family. I'm confident my sons won't be drawn into what my teenage girls have, but there'll be equivalent opportunities and challenge.
I want to learn to respond prayerfully, asking for wisdom, because God promises to give it generously when we ask, and I know I need it!
Got to go, my B-real notification just popped up…

Claire Hailwood is a former youth worker and is involved with her husband at Freedom Church in Worcester. They are parents to four children
View full Profile