Trish Hahn is learning how to support her son through the GCSE years. And it sure isn't easy…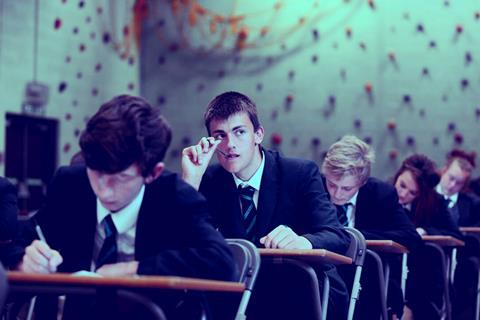 My son started year 10 in September this year, 2022, the year when students have chosen subjects, they intend to study at GCSE level. For the next two years he is committed to following the syllabus generated for year 10 and 11 students.
He is 14- years-old, and thankfully has an idea of what he would like to do after his GCSE subjects. When I was his age, I did not have a clue what I wanted to do. He has chosen the subjects most suited to his future career, I chose whatever subjects I could pass. I was not particularly academic, my son is.
Don't compare
I still remember feeling the pressure from my parents, who wanted me to do well in my exams, but my mindset was not where it needed to be. I was not a high achiever at school and was not encouraged during my O grades and CSE years. It is altogether a different story for my son, he has been fortunate enough to have had great teachers during his primary school years who have encouraged him and pushed him to try his best in all his subjects.
I am aware that there are many parents like myself, who perhaps did not do well in secondary school and want the best for their child. That might take the form of extra tuition, extra classes during the summer holidays or it could be that as parents we try to encourage our teens through pep talks. I am guilty of pep talks to the point that my son told me to stop and take notice of what he was telling me – "back off mum, you are stressing me out" and eat humble pie.
Tests, tests and more tests
So far this week, he has had four surprise tests for four different subjects, and that is outside of homework and revision for other upcoming tests that he does know about. Martial arts class twice a week and air cadets twice a week keep him busy outside of school hours and away from gaming with friends for a while.
Throw into the mix, peer pressure, social media in all its various forms, bullying, cyber bullying, the ever-changing education system depending on what new initiative the government wants to push forward, a bit of climate change, sex education, puberty, after school clubs and we have a melting pot of mixed emotions stewing away right in front of us, ready to explode at any given moment thanks to the ever-present hormones coursing through their bodies.
The faith journey
As a parent and a youth pastor I have gone through the stage where my son has said many times that he does not believe in God, and now he has reached 14 we have decided not to push him into coming to church. The church we are based has depleted numbers of children and teens and it is not as attractive as it was pre-covid. My son knows that I believe in God, that I have a relationship with God and that I pray for my son on a regular basis.
He had so much church input when he was much younger and now that his dad is a Minister within the United Reformed Church, church life is literally in his face every day, and I know and appreciate that he is going to go through a wide range of thoughts and emotions during his teenage years.
As Christian parents it can be stressful dealing with your child or teenager wanting to back out of church life, especially if it impacts on younger siblings, in my case my youngest child who is seven almost eight years old. She now kicks off every Sunday morning and I must explain why I am running Sunday School every Sunday morning in the hope that we have existing or new families turn up. I do try to make it fun and interesting!
School, church and home
Trying to gain a balance between school, church and home life is stressful at the best of times without the added pressure we can put on ourselves and our children trying to keep up with the Jones's. Thankfully, the older members of our congregation have stopped asking me where my son is on a Sunday morning, they know he is elsewhere with my blessing.
Jeremiah chapter 29 verse 11-12 says "For I know the plans I have for you, says the Lord. They are plans for good and not for evil, to give you a future and a hope. In those days when you pray, I will listen."
God has a plan not just for each one of us as parents, but He has plans for our children, our teenagers, even if they do not want to know just yet. He has a plan for their future. God is with us, listening to us when we are tired and frustrated and feeling like we may be the worst of parents. Do not despair, hang in there through the ups and downs of the GCSE years, I am going through it with you.

Trish Hahn is Youth Pastor at her local United Reformed Church, and Regional Messy Church Co-ordinator for North East Essex from 2014 to current.
View full Profile