Claire Hailwood shares what typically drives her crazy and how she has learned to cope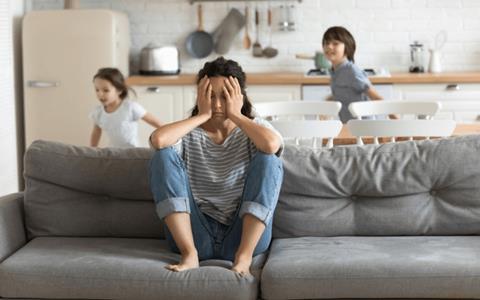 I've said more than once that it won't be a big parenting crisis that one day pushes me over the edge, but that I'll find a pair of dirty socks, or worse, a single sock somewhere it shouldn't be, again, and I'll flip my lid.
I have a great friend who is one of my parenting idols – he's gracious, patient and kind, but for some reason, if his children ever wrote in pen on their hands, it pushed his buttons!
What things most wind you up?
When my children were little I could handle tantrums but whining was the thing I found most difficult! As they've got older I've discovered that sharp tongued back chat is the thing most likely to get me to count to ten or bite my tongue (on a good day).
As I've reflected, I've realised that I find backchat so challenging is because I recognise myself in it. There's nothing like raising children to hold a mirror up to us – some of what we see is good, but for me there's also some ugly traits reflected back.
I don't want to be a nagging, shouty Mum but sometimes my buttons are pushed and I become a version of myself that I don't love and is not the example I want to set my children. I want to respond, not react.
In the words of Paul, 'not that I have already obtained all this, or have already been made perfect,' but here are 3 things I'm learning
1. Know your buttons!
Knowledge is power. Being able to identify and understand what makes you frustrated is half the battle because you can then seek to understand why. Some things are insignificant and we just have to learn ways to get over it (socks and me!). Asking why something makes us angry and where that is rooted, may lead us to something that we need to address first. It may actually lead us to greater levels of freedom from frustration as we learn to respond not react first.
Be brave and wonder, with God, why you feel as you do.
2. Be honest
I recently had a conversation with one of my teenagers (after buying them a drink at a drive through, when we were both calm and connected), and I shared how I sometimes felt in conversations and (most importantly) what I thought I needed to do differently so situations didn't become explosive.
I also (bravely) asked if there was anything I did that they found particularly difficult. Unsurprisingly there were, but in the context of this conversation we both acknowledged things that we did that were unhelpful, things we might do differently and laughed with and at one another. As the parent, I led us to this point (including the importance of setting the scene) but we learned and grew together.
We've pushed each other's buttons since but conversations like these are helpful as we journey through change together.
3. Pray Psalm 139:23,24
Search me God and know my heart. Test me and know my anxious thoughts. See if there be any offensive way in me and lead me in the way everlasting
The more I pray this prayer with honesty, the more chance I have to become more like Christ. As I do so, the buttons I have will become less sensitive to provocation.
Some days I relish this challenge and change, other days I don't. And even in that I realise that it's probably similar for our teenagers as they are shaped and challenged by us too so I need to show grace in the same way God does to me.

Claire Hailwood is a former youth worker and is involved with her husband at Freedom Church in Worcester. They are parents to four children
View full Profile